The Publisher of Leadership Newspapers Mr. Sam Nda Isaiah on Thursday paid a solidarity visit to the top management of Daily Times of Nigeria over the recent arrest and detention of some staff of the organisation.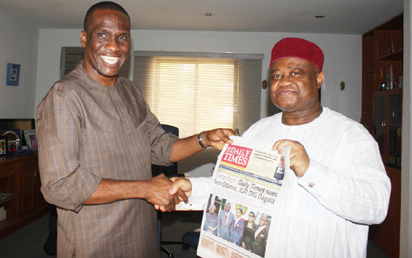 While speaking to newsmen after the visit, Nda Isaiah said there was something sinister in the way the Police and a Magistrate Court in Mpape handled the matter.
He said the Police High Command may have been misinformed on the dispute regarding the ownership of Daily Times.
He urged the Inspector General of Police to listen to stakeholders from both sides of the conflict to avoid further embarrassment or escalation of the matter.
He said: "I know all the story of how this Daily Times matter started. The story is also straight forward. You therefore need to take time to listen to everyone involved in the matter in order to take well informed decision. Apart from Police, security agencies should sit down and address it properly. They should look at all the court documents, all agreements and court settlements because what the Police have done so far are in error.
"The person who ran to Magistrate Court for criminal prosecution over a civil case that is pending in courts of superior jurisdiction knows why he went there in the first place and what he wanted to achieve. That is why I said there is something sinister going on and that the security agencies should wade in to find that sinister substance so that it can be halted before going out of control."