By Emeka Mamah
ENUGU—DEPUTY Senate President, Chief Ike Ekweremadu has said that the extent of development of any people is dependent on the vision of their leaders, adding that when leaders have big dreams for their people, what follows is rapid development.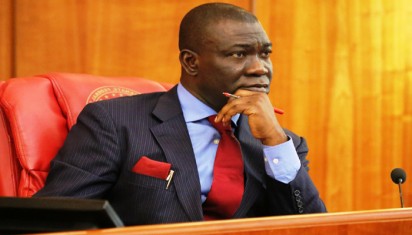 "The extent of development of any society depends on the size of the vision of their leaders, so if you have leaders who have big vision, the society will achieve a lot, but when leaders have limited vision, then that will be the extent of development of that society," he said.
Ekweremadu spoke during a two day inspection tour of projects which he attracted to Enugu West Senatorial District.
He said he was a fulfilled person because of the pace of work at the different project sites, as according to him, developing his environment was the main reason why he ventured into politics.
He pointed out that with the Nnewe/ Oduma/ Uburu road with a spur at Ishiagu which is at 80 percent completion, economic activities will be accelerated within the area.
Ekweremadu recalled that, no part of Aninri Local Government Area had electricity nor asphalt road,  at the time he was elected into  the Senate, and expressed happiness that the situation had now changed.
"Growing up as a young child, I saw this road as a very big challenge to our people, but today we are achieving our vision for our people. What we are doing here, we are also doing in all other parts of our constituency," he said.
Ekweremadu assured the people that all projects attracted by him must be completed in record time and according to specifications.
Some of the projects inspected included the Ukpa/ Ujiri/ Ndibeoh/Lekwa erosion control project at Oji – River, Onuakanu/ Utin road, Amagu/ Amaeze road, Amaeze/Ihueze link road and Ivo Bailey Bridge, Ihuibe/Ihiozike road, Okpara road, all in Okpanku.
Others included the Aninri East Development Center Secretariat under construction, E- library; which JAMB has graciously approved, Empowerment and Training Center, designed to include a conference center, lock up stores and hotel rooms, all in Mpu, plus the new Mpu/ Oduma road under construction.