Mr. Oghene Egoh, the member representing Amuwo Odofin Federal Constituency at the House of Representatives, has urged Nigerians to be law abiding as well as uphold the unity and progress of the country.
Egoh told newsmen in Lagos on Friday that the love and progress of the country should be paramount to its citizenry.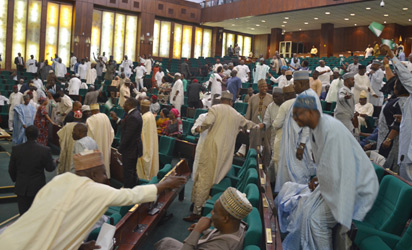 He frowned at the killings and other challenges facing the country saying that, "Such occurrences are not good for the development of any nation.
"We should be law abiding citizens and work to achieve the same common goal of national development rather than destroying the good image of the country,'' he said.
Egoh commended the Lagos State Government's efforts at improving the security surveillance across the state.
He applauded the government and security agencies for standing up to their responsibilities in tackling the menace of "Badoo" and cultism happening across the state.
"This is worth commendable as the state is safe and secure for people to live in it, "he said.
Egoh appealed to the Federal Government to be proactive in addressing issues of security challenges in the country.
According to him, there is an ongoing plan by him to work closely with the Lagos State Government to ensure adequate security in his constituency, Amuwo Odofin.
"Parts of my campaign promises for the people of my constituency are the provision of good atmosphere, adequate security, empowerment programmes and other projects that will improve their lives, "he said.
Egoh said that  he recently empowered over 300 widows from his constituency in soap-making, shoe-making, book-keeping and other entrepreneurship programmes for them to be self-reliant as fulfilling parts of his electioneering .
"I did not only support them in the entrepreneurial programmes, I also give them financial assistance for them to invest in such skills they had acquired, "he said.
Aside the sponsorship of the widows, Egoh said he had organised free eye tests for the people of the constituency.
He said that he had also donated tricycles, grinding and sewing machines some of the residents in the constituency.
The representative also said that he had donated three transformers, free school uniforms for public students, motorcycles and deep freezers to the people in his constituency.
Other achievements by the lawmaker include: free lectures for candidates that were to write JAMB, NECO, WAEC and GCE examinations.
Egoh promised to be a good representative of his constituency in order for them to continue to enjoy the dividends of democracy. (
NAN