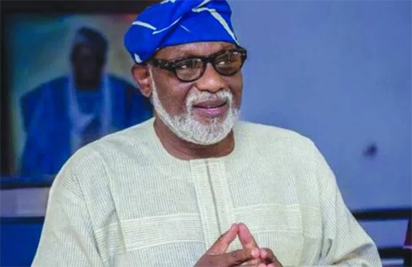 Ondo State governor, Rotimi Akeredolu
By Dayo Johnson
Akure—DISTURBED by the spate of violence and lawlessness in the oil rich llaje area of Ondo State, the state government has warned trouble makers to desist from unlawful acts.
Governor Rotimi Akeredolu, who described as unacceptable the unending lawlessness in area of the state, warned of dire consequences to the culprits.
It will be recalled that the traditional ruler of lgbokoda, Oba Afolabi Odidiomo was recently attacked by some miscreants and left to die until he was rescued by traditional chiefs, who rushed him to the hospital.
Akeredolu, at a meeting with the leaders of Ilaje, expressed concern over the breakdown of law and order in the area.
Speaking through his Deputy, Mr. Agboola Ajayi, the governor said:  "I am daily inundated with messages and pictures of events going on in the area.
"We are fully briefed. Having listened to all of you, this government is concerned with the criminality of the situation on ground.
"We can no longer condone the wasting of human lives, which has reached about 40 of recent. I must commend security officials for what they are doing. However, they must do better by improving what we have on ground.
"The kingpin of this lawlessness, whom you have mentioned here must be arrested and brought to book. He cannot be law unto himself. Enough is enough."
The governor advised the traditional rulers to join hands with the government in its drive to make the area conducive for investment.
"As traditional rulers, you know your people in the communities.
Henceforth, you must join hands together, all of you from the King to the chiefs and village heads to nip in the bud all activities being perpetrated by youths against government projects.
"Take control of your domains, otherwise, government will do it for you.
"Our effort to collect arms from militants is meant to make the area peaceful so that our plans to develop the area can go unhindered."
According to him, the government had stopped appointment of Baales and Olojas by the king saying "let me remind you that the ban on appointment of baales and Olojas for the communities by the Olu still subsists."
The governor promised to set up a Judicial Commission of Enquiry.
Earlier, Olu of Igbokoda, Oba Afolabi Odidiomo and other community leaders expressed worries over the unchecked violence in the area.
Oba Odidiomo cited instances where he had been subjected to physical attacks by miscreants.