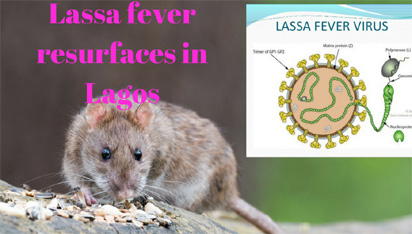 Lassa Fever
The Nigerian Medical Association (NMA) in Kogi has advised healthcare practitioners in the state to always observe safety precautions whenever attending to patients.
Dr Godwin Tijani, the state Chairman of NMA, gave the advice in an interview with newsmen in Lokoja on Sunday.
Tijani also advised the general public to store food items, especially grains, garri and powdered food in air-tight containers.
According to him, the call becomes necessary following Saturday's announcement of a medical doctor with the Federal Medical Centre (FMC), Lokoja, diagnosed of Lassa fever.
"The general public should endeavour to quickly report any case of high grade fever not responding to antimalarial treatment to the nearest hospital, so that quick diagnosis and treatment can be instituted.
"Early presentation has a good prognosis," he said.
The medical doctor, who described Lassa fever as a zoonotic disease, spread by rats, stressed that personal hygiene or any measure taken to get rid of rats would help in containing the disease.
"Its symptoms include high grade fever, joints and general body pains, malaise, bleeding from body orifices and renal failure.
However, the NMA chairman appealed to relevant governments and stakeholders to be serious with the welfare of health personnel.
According to him, health personnel risk their lives under a very poor remuneration.
"Can you imagine that the hazard allowance for a doctor is just N5,000, while those who are not exposed to any risk are being paid allowances running into millions of naira.
"For instance, doctors working with the Kogi government are on strike over poor welfare.
"I am, therefore, appealing to the government to address the grievances to ensure that doctors quickly get back to work as there is an imminent emergency befalling the state.
"Government should pay the remaining balance of salary, correct the underpayment, and give a timeline for the implementation of the revised CONMESS, promotion and annual step increment.
"The government should also act fast to avoid mass exodus of doctors from the state, because we have fewer doctors and we cannot afford to lose them to other states with higher bids.
"Some of the Northern states have advertised for doctors' recruitment and over 100 doctors under Kogi government employment have indicated interest to go for the interview.
"This is a bad development for the health sector. I am appealing to the state government to do the needful to avoid the impending calamity," said Tijani.
Newsmen recall that Dr Olatunde Alabi, Medical Director, FMC, Lokoja, told newsmen on Saturday that a male doctor, 30, was diagnosed of Lassa fever on Friday.
According to Alabi, the affected doctor is currently undertaking treatment at Irrua General Hospital.
The medical director said that all who came in contact with the sick doctor, both at home and work had been placed under medical surveillance.
NAN