By Ebun Sessou
Lagos—Speaker of the Lagos State House of Assembly, Mr. Mudashiru Obasa yesterday assured that the House would pass the 2018 budget Appropriation Bill next week.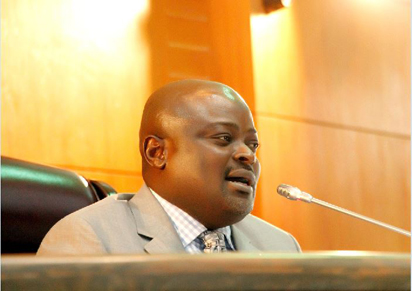 Obasa gave the assurance while commenting on the timely submission of the budget report by the House Committee on Budget and Economic Planning, chaired by Mr. Yishawu Gbolahan who presented the report on the floor of the House.
The Speaker who expressed appreciation to the committee for returning the report on time noted the prompt response would facilitate easy passage of the bill.
He said: "I really appreciate the commitment and dedication in meeting up with the time set to turn in the report. For your commitment, I thank you very much. I am sure that with this, we can by this week or next week return the budget back to the governor for the people of Lagos State."
According to him, the House went for a break to allow the committee to do its work in order to return the budget in good time.
Governor Akinwunmi Ambode had on December 11, 2017, presented the proposed "Budget of Progress and Development" to the assembly.
The budget size, which represents a 28.67 per cent increase over the 2017 Budget of N812 billion, had a capital expenditure of N699 billion and a recurrent expenditure of N347 billion.
The House on December 18, 2017, set up a seven-man committee to scrutinise the state's budget proposal of N1.046 trillion.
Meanwhile, the House also took the reports of its Seven-man Ad hoc Committee on Energy and Minerals Resources on "Power Sector Reform Bill, 2017".
It was presented by Mr Folajimi Mohammed, the Chairman of the committee.
The assembly also accepted the report of its Eight-man Ad hoc Committee on Finance on the "Land Use Charge (Repeal and reenactment) Bill, 2017" as laid by Mr Yinka Ogundimu, the Chairman of the committee.
The House took the report of its Seven-man Ad hoc Committee on Transport on the "Lagos State Transport Sector Reform Bill, 2017" presented by Mr Fatal Mo