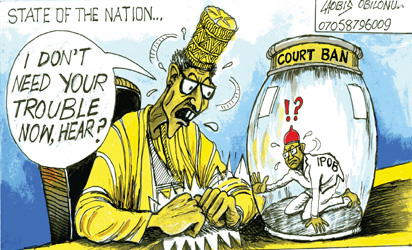 IPOB cartoon
By Vincent Ujuumadu
Awka- THE Indigenous People of Biafra, IPOB, said Tuesday that it was surprised that the governors of the South East states and the apex Igbo socio-cultural organization, Ohaneze Ndigbo, have not called for the ban of the activities of the Fulani Herdsmen, despite their horrendous activities that had led to the massacre of many Nigerians.
IPOB media and publicity secretary, Comrade Emma Powerful, in a statement, recalled that at the height of attacks on IPOB, the governors and Ohaneze were in the forefront for the proscription of IPOB, saying the organization was surprised that they had kept quiet in the face of massive killings across the country by the Fulani Herdsmen.
The statement read: "Why won't they (Governors and Ohaneze) command their fellow Northern governors and Arewa Consultative Forum (ACF) to proscribe or ban the activities of Fulani terror herdsmen as Northern governors and elders commanded them to do in the run up to Operation Python Dance in the South East?
"It is on record that the South East governors, with the support of Ohaneze Ndigbo, openly announced before the world in Enugu that all IPOB peaceful activities were henceforth proscribed. That singular pronouncement gave impetus to the military to hastily label IPOB a terror group.
"What Fulani herdsmen have been doing is mass murder and orchestrated genocide, yet all the anti-IPOB voices from the South East, South South and South West have fallen silent.
"They are scared of making the same demands Northern politicians forced them to make in the case of IPOB. They have suddenly gone mute and the unity of Nigeria is no longer threatened despite the senseless savagery of Fulani terror herdsmen.
"This has clearly shown that South East governors, Ohaneze, South- South and South West politicians, with a few notable exceptions, are opportunistic charlatans that will do anything to please the North in return for power and wealth.
" It does not matter to them how many people are killed, how many villages are sacked and pillaged, as long as Fulani power brokers in the North control all the levers of governance and military."
IPOB also alleged that at the height of the anti-IPOB sentiment in the Nigerian media, Igbo governors were openly towing the line of Hausa Fulani youths, adding that they boasted they would take the battle to the door step of Mazi Nnamdi Kanu, a reality which happened when Nigerian soldiers stormed and destroyed the home of the IPOB leader.
IPOB further said: "Today, all of them are silent as rivers of blood flow all over our land.
We are aware that men and women of good conscience in the world can see the blatant hypocrisy and rampant deception within all strata of the Nigerian establishment. A peaceful organization with no history of violence is labeled a terrorist group, tortured, killed and members imprisoned without trial; whereas a certified murderous Fulani outfit is allowed to literally get away with murder. Nigeria is proving to be a country without any understanding of what natural justice is all about."