By Emma Amaize
WARRI—CHAIRMAN, Warri-Ijaw Peace Monitoring Group, WIPMG, Delta State, Chief Patrick Bigha, has called on agitating groups in the Niger Delta region to explore non-violent means to engage government at all levels and International Oil Companies, IOCs, rather than resorting to destruction of oil facilities.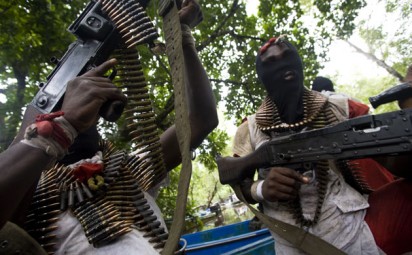 Bigha, who gave the advice in a statement, yesterday, said: "Peaceful engagement will help avoid military action in our communities and harassment of perceived enemies of the present Federal Government.
"This call has become imperative as we have observed that the Nigerian military is very swift at harassing innocent villagers in the region, particularly communities along the oil-rich Warri-Escravos area. We have noticed that the military and other security agencies have started plans to go after some persons, who they perceive as enemies of the President Muhammadu Buhari administration.
"It is worthy of note that this method of the military has never helped the people in the region as it has further worsened the precarious socio-economic situation of the people.
"It is our belief that a peaceful resolution of the problems in the Niger Delta region, which successive governments,  including the current one have acknowledged, will lead to  massive development of the region.
"The truth of the matter is that so much money had been expended on military actions in the region without achieving the desired peace. It has become a stock-in-trade of the Nigerian military to employ violence in dealing with the Niger Delta situation because they are gaining so much from such crude methods of resolving crises in the region over the years.
"We are aware of many military men that have made so much money from the problems in the region without addressing the main issues that brought about the problems in the first place.
"On a final note, we, of WIPMG are happy with the prevailing peace in the Warri-Escravos route and therefore, want to sincerely appeal to agitating groups in the region to embrace peaceful means to press on their demands for the development of the region."