The digital space is about to experience a new kind of excitement as a brand new show titled "House Rules" debuts today from the stable of The Cosmic Frequency Network.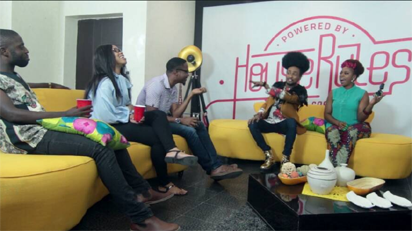 'House Rules' is a show that features four entertaining hosts taking on a special guest in a casual interview over drinks and games in a typical living room. The show offers unique content as it redefines the regular interview shows we already know.
The show takes place in a living room which is set like the conventional living room and has a kitchen, a chill room, and a Joystix room for games; to accommodate the different kind of guests that would be on the show. Audiences will be thrilled, especially by the videocast concept deployed in the show, which is first of its kind in Africa. The video is filmed in First Person Camera Angle and Third Person Perspective.
Different cadres of celebrities are expected on the show to add different excitement and increase entertainment levels on a frequent basis. From Entertainers to Politicians, and Young Entrepreneurs. You can expect to see top names like Denrele, Brymo, Nedu and others on the show.
House Rules is a going to be online, and new episodes drop weekly on the company's youtube channel.
The show is powered by The Cosmic Frequency Network – a digital content company which aims to revolutionize digital media across Africa.
With this show, The Cosmic Frequency Network aims to cement its position as the top multicultural new media network for people who love quality content.