ENUGU – MEMBERS of the Community High School Umabor Alumni Association have begged Governor Ifeanyi Ugwuanyi of Enugu State to save the students from looming danger.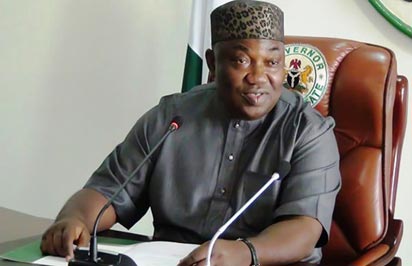 The group, at a visit by the 1998 Alumni, observed that almost all the classroom structures in the school were at the brink of final collapse.
The Alumni, led by Pharm. Stephen Ugwuoke, was accompanied by other leaders of the group, including, Comrade Emmanuel Uzoh Ugwueze, a journalist, Mr. Jude Ndubuisi Edeh, and Mr. Hyginus Odoh.
Speaking after the visit, Ugwuoke described the condition of the school as not only embarrassing but unacceptable.
He said it was disheartening that previous governments in the State allowed educational infrastructures to deteriorate to such a shameful level.
"We are saddened by what we saw today at the once famous Community High School, Umabor, a school that has produced so many great personalities in Nsukka and beyond.
"The school is now a shadow of itself, no thanks to previous governments in this State. Our enquiries showed that this place has been like this for over seven years.
"It is so bad and unacceptable. We saw today that the building housing the science laboratory has already collapsed; so how does the students do science practical? We don't have answer to this.
"The administrative block is gone; the senior class block is a danger waiting to happen, as the room is about to cave in.
"So, we are appealing to His Excellency, Governor Ifeanyi Ugwuanyi for a special intervention on this school. We commend the Governor for the good work he is doing in Enugu State, especially his good budgetary allocation for education, which we consider exemplary. It is indeed something other States should emulate.
"We know his government inherited terrible educational infrastructures across the State, but our appeal is that the case of this school demands emergency. There is tragedy waiting to happen and the time to avert it is now", Ugwuoke stated.