By Dennis Agbo
ENUGU—THE Enugu State House of Assembly has declared that state governors were no longer the chief security officers of their states.
The House made the declaration while reviewing the security situation in different states where the state governors were handicapped with no security agency under their control except for neighborhood watch groups.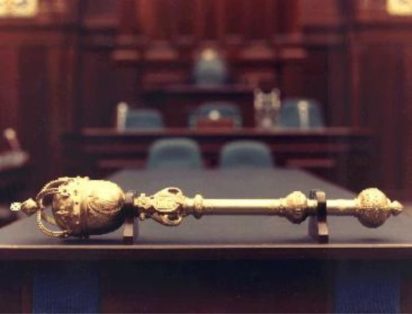 The House therefore concluded that going by the menace of Fulani herdsmen in different states, it would henceforth make allocations of fund to beef up state neighborhood watches which is the only security apparatus in the control of  the state government.
The House took the decision at plenary  on Tuesday,  during the deliberation of the 2018 appropriation bill presented to it by Governor Ifeanyi Ugwuanyi on December 28 2017.
Members of the House in their   contributions expressed worry on the growing insecurity  in the country, particularly on the recent Benue state genocide.
The state Assembly therefore expressed readiness to channel funds from the ongoing budget defence by ministries, departments and agencies, to strengthen the state neighborhood security outfit for more productivity.
Some members of the House  who spoke at the plenary included the member representing Nsukka East state constituency, Hon. Chinedu Nwamba, the chairman, House Committee on Information, Hon. Paul Nnajiofor and the Chief Whip, Hon. Mathias Ekweremadu, Jnr.
Nwamba lamented that what was going on in the country does not suggest that governors were still chief security officers in their states.
The House therefore agreed that funds would be channeled to reposition the state neighborhood security under the ministry of Human Capital Development and Poverty Reduction.
Members said they can no longer fold their arms and watch Enugu state people being slaughtered by marauding herdsmen.
The House noted that the state is located in  an eastern gateway and needed a strong security network to checkmate influx of criminals from neighbouring states such as Benue.
Speaker of the House, Rt. Hon. Edward Ubosi who is also the vice chairman, Conference of Speakers in Nigeria, condemned  the killing of a law maker in Taraba state and other killings in various parts of the country.
The plenary observed some minutes silence for those who lost their lives in the country and for the repose of their souls.
Earlier, Leader of the House, Hon. Ikechukwu Ezeugwu moved a motion for suspension of some section of the House Standing Order to enable the House give the appropriation bill accelerated hearing.
However, the Deputy Speaker, Don Uzogbado called on members to give the bill accelerated consideration in view that Governor Ugwuanyi had made judicious use of the state fund in the 2017 appropriation.