The Gambia has suspended permission for rallies and other public political events after clashes allegedly between supporters of President Adama Barrow and those of the former regime of Yahya Jammeh.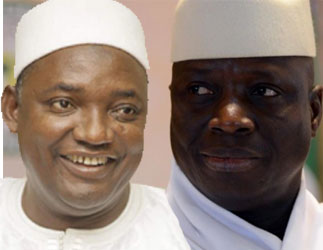 Gambian police said in a statement issued late Thursday that permits for political parties to campaign were on hold while it investigated two violent incidents in rural areas this week.
"The office of the Inspector General of Police (IGP) notifies all political parties that all permits granted to conduct political activities have been suspended until further notice," the statement said.
The Gambia holds local elections in April.
The first incident occurred on January 8 near Mankamang Kunda, the home village of President Barrow, where supporters of the ruling United Democratic Party (UDP) allegedly clashed with Alliance for Patriotic Reorientation and Construction (APRC) members returning from a nationwide tour.
"We were going to our party leader's compound in Tallinding with a jubilant crowd when our vehicles were attacked by supporters of the United Democratic Party," APRC National Mobiliser Yankuba Colley told AFP.
"Our supporters were again attacked on Thursday by the UDP supporters in Busumbala," he added.
A UDP MP, Alagie Darboe, told AFP the incidents were "between the APRC and the residents of the area, and not between APRC and UDP."
The presidency has confirmed several people were wounded in the first confrontation, which involved stone throwing and destruction of several vehicles.
"Investigations are underway regarding the two incidents and anyone found to have run afoul of the law would be dealt with," the police statement added.
The APRC was once led by Jammeh, who left the country for exile nearly a year ago.
He ruled the west African country with an iron fist for 22 years, amassing a slew of corruption and human rights abuse allegations during his time in office.
APRC members once enjoyed an elevated status in Gambian society and reputedly gained perks denied to the majority of Gambians, most of whom live in poverty.