By BOLUWAJI OBAHOPO
LOKOJA – The academic atmosphere of Federal University, Lokoja had been thrown into a frenzy mood following the commencement of a Sit – down protest by the school chapter of Academic Staff Union of University, ASUU.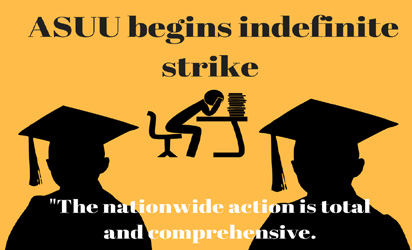 The lecturers in their hundreds today gathered in front of the vice chancellor office chanting union slogan and carried different placards.
Some of the placards reads, "Our mumu don do"; " Lead or leave"; "Sunset in Tetfund"; " Bad regime the road to precipice, misery and depression".
Addressing newsmen at the protest, the school chairman of ASUU, Dr. Anslem Oyem said they can lo longer keep quit over the  insolent of the management team to their grievances.
Oyem said the peaceful Sit – Down protest is to register their displeasure over the lackadaisical attitudes of the management team to their welfares.
"Our rights and privileges are been tampered on. Since 2016 no promotion to professorship despite there are many qualified for it. Also, lecturers with master degree are yet to be upgraded to their deserving position. Same goes for other ranks.
"TETFUND monies are being withheld by the management thereby causing difficulties for lecturers who are to benefit from its scholarship to access it.
"Since NASU commenced strike, we clean ad sweep our offices by ourself just because will don't want the school calendar to be truncated.
"Our departmental running cost are not release. For a while now the management had sit on our impress".
Oyem also said the school management had turn deaf ear to their demands and refuse to reply the numerous letters written to them about their demands.
He said the Sit – Down protest will continue from 8am to 4pm unabated until the management address their grievances.
The students are seeing littering around the school premises while some handful had constituted themselves into tutorial class led by the student.