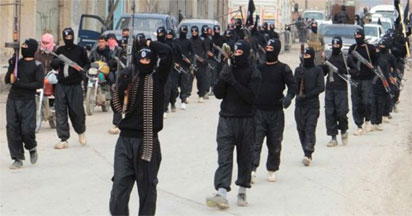 ISIS fighters
The Islamic State group has been roundly defeated across much of Syria — which made it all the more surprising when it announced an official comeback in the country's northwest last week.
Syrian regime troops are currently waging a fierce assault against other jihadists and rebels in Idlib province, and in the chaos, IS appears to have gained a foothold.
On January 10, IS media channels began claiming hit-and-run attacks against Syrian government forces in Idlib, from which the group was ousted in 2014.
Two days later, IS officially declared Idlib one of its Islamic "governorates" and has published news of raids against Syrian troops there with increasing pace every day.
Most notably, the organisation claims to have killed around two dozen soldiers and taken nearly 20 hostage from an area near the key Abu Duhur military airport in Idlib.
"There are probably hundreds, maybe over 1,000 (IS fighters) at most. A number of IS guys who fled territory elsewhere made it to this enclave via smuggling," said Aymenn al-Tamimi, an academic and expert on the group.
Tamimi told AFP the new Idlib presence was an "extension" of IS's small but established bastion in neighbouring Hama province.
More than four years ago, IS operated an Islamic "governorate" in Idlib, but it was kicked out of the province in early 2014 by Islamist fighters and allied rebels.
Those fighters went on to oust the regime from the province too, as IS extended its Islamic "caliphate" across swathes of Iraq and Syria — but not Idlib.
– 'Came out of nowhere' –
In Syria, IS has since lost almost all that territory to Turkey-backed rebels, US-backed forces, or Syrian army troops.
In December, it made a brief incursion into Idlib for the first time since 2014, but last week's announcement could signal something more.
So far, it seems IS's territorial grip on Idlib remains limited, with the Syrian Observatory for Human Rights saying it only holds about five villages there.
The Britain-based monitor challenged IS's claims of kidnapping government forces, saying most of the 31 troops captured during the past week in Idlib were held by rival jihadists.
But six were unaccounted for, and Observatory head Rami Abdel Rahman said it was possible, though not confirmed, IS was holding them.
"They came out of nowhere, but IS was long suspected to have sleeper cells in Idlib," said Hassan Hassan, a senior fellow at the Tahrir Institute for Middle East Policy.
"I doubt IS can get significantly bigger in that area, but this is a big moment for it to build influence and revitalise its cells, some of which will probably remain clandestine," he said.
A key factor in IS's now-public presence in Idlib, analysts agreed, was the ongoing government offensive against rebels dominated by Hayat Tahrir al-Sham (HTS) in Idlib.
HTS is led by Al-Qaeda's one-time franchise in Syria and now rules over a vast majority of Idlib, but the regime's Russian-backed assault has been chipping away at territory there for several weeks.
IS could hardly resist stealing the spotlight, Hassan said.
"Idlib is now a big rebel cause. Everyone is trying to gain popular relevance through their role in defending the area," he told AFP.
"Such moments are perfect for IS to make some noise," and the group "used the publicity around the offensive to play up its role there."
– 'Right place, right time' –
Nawar Oliver, an analyst at the Turkey-based Omran Centre, suspected IS was also trying to take advantage of infighting among Idlib's rival jihadists to poach hardliners keen on establishing an Islamic entity.
"With this announcement, extremists in other groups will find a place where they belong," Oliver said.
"Daesh played this right — they're saying, I set myself up in Idlib, in the right place at the right time," he told AFP, using the Arabic acronym for IS.
Since war broke out in 2011, Syria has been carved up into complex zones of control held by rebels, Kurdish fighters, pro-regime forces, and competing jihadists including IS.
For Charlie Winter, a researcher at King's College London, it remains "too early" to predict whether IS could make a full-scale comeback across Syria.
"It is battered without manpower, resources, weapons, or the networks to do any strategic offensives like they were able to do in 2014, 2015, and first half of 2016," he told AFP.
Instead, its proclamation of an Idlib presence was an attempt to say, "we're still here, knocking around, if we have to pull out from one place we'll set up somewhere else," Winter said.
"It can't have propaganda be about nothing."