By: Chinenyeh Ozor
Midnight fire outbreak at Nsukka industrial market Enugu state razed down goods worth over N50 million together with six cars parked close to the affected shops for repairs at the market.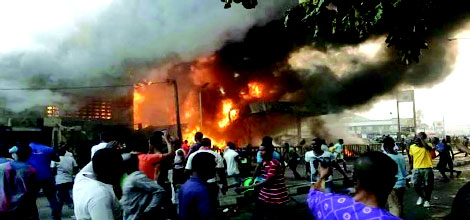 Vanguard gathered that the fire started around 5am of last Tuesday and razed to ashes four shops before the intervention of fire service men that controlled it from extending to other shops in the market.
The four affected shops include two automobile electrical and two motor mechanics shops while other shops close to the four were averted due to the intervention of the fire fighting men in Nsukka municipal town.
Investigations revealed that nobody at the market could give account of how the fire outbreak happened as there was electric power outage for over two weeks at the industrial market while both technicians and traders has closed up business the previous day only to be alerted in the early hours of Tuesday by the security men that the market is in flames.