By Levinus Nwabughiogu
ABUJA—Chief of Naval Staff, Vice Admiral I.E Ibas, has said low revenue profile has seriously affected the operations of the Nigeria Navy.
Ibas disclosed this during the 2017 budget performance and 2018 budget presentation exercise by the House of Reps Committee on Navy.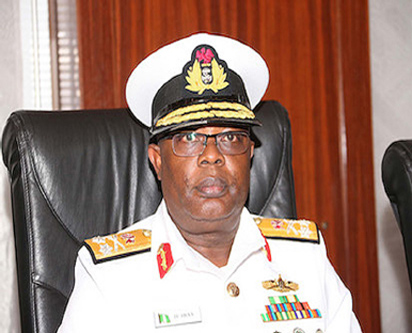 He said: "It needs be said that the funding challenge is unavoidable under the regime of the Zero Based Budgeting (ZBB). The appropriation which is drastically limited ab-initio by the ZBB, is seemed to be further substantially, progressively decreasing each year from the budgeted funds to the appropriated amount down to the final releases across both the capital and overhead votes.
"Often in some cases with less than 5 per cent of the budgeted amount only accessed. On account of such poor funding profile, the service is unhealthily deficient in practically all operational key enablers."
The Naval Chief also said that poor budgetary releases have affected the  ORBAT projections.
"Notwithstanding that the size of the fleet itself is too lean for the maritime expanse to be covered, its support is already impracticable with the meagre budgetary releases. With the recent fleet expansion following the induction of about 150 boats and 3 news ships by the close of 2016 and early last year, the logistics outlay has also increase substantially, making it extremely difficult for the Nigerian Navy to sustain its operations.
"The funding deficit experienced has also severely constrained the Nigerian Navy in its capacity to deliver the required training infrastructure, which would be necessary to meet the service manpower need in number and quality", he said.
Ibas also disclosed that inadequate barrack accommodation and other welfare structures were major challenge to Nigerian Navy.
On his own part, the Chairman of the House Committee on Navy,  Abdussamad Dasuki, lamented the poor revenue allocation to the Nigeria Navy, saying that a review of their profile was urgently needed.
"Globally, the trend in government spending on the Navy shows that allocation to the Navy is declining in advanced countries such as the United States and Germany due to the development of more sophisticated equipment amongst other reasons. The trend is increasing for emerging economies such as India and Brazil, including Nigeria.
"In 2017, Out of over N26 Billion allocated to the Navy's capital projects, only about N15 billion As released. For overhead, over 4 billion was appropriated and N2.3 Billion was released. This clearly indicates the Navy cannot perform optimally in the circumstances. For instance, seven Patrol vessels on 24hrs surveillance for 30 days will consumes diesel worth a billion Naira. Unfortunately, lack of funding makes this among other requirements unattainable."