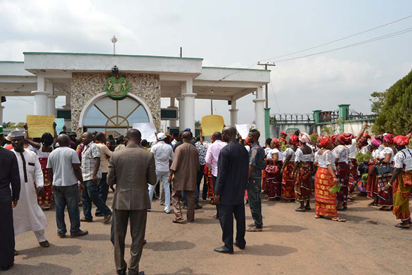 PROTEST: Members of Host Communities of Nigeria Producing Oil and Gas, HOSTCOM, Urhobo ethnic nationality chapter, protesting at the entrance to Government House, Asaba, yesterday. Photo: Nath Onojake.
By Harris-Okon Emmanuel
UYO—Oil and gas-producing communities in Niger Delta region on the platform of Host Communities of Nigeria, HOSTCOM, have demanded for the payment of the first tranche of the gas flare penalty of N89 billion reportedly approved by the Federal Government.
The penalty, said to be part of the agreements reached with the host communities by the Federal Government, also include the implementation of the 13 percent derivation, release of the licences for the 10 modular refineries and the implementation of the pipeline surveillance jobs for 10,000 Niger Delta youths.
National President of HOSTCOM, Prince Mike Emuh, who disclosed this to Vanguard, accused the Federal Government of dilly-dallying in implementing the 20-point agenda agreed with Pan Niger Delta Forum, PANDEF, and HOSTCOM.
According to him, since the militants declared a ceasefire to pave way for dialogue, the Federal Government has done nothing tangible to assuage the yearnings of the people of the oil-rich region.
He said the region will witness enduring peace and development if the Federal Government implements "half of what it promised" and urged government to make good its pledges.