A group, Fulbe Development Association of Nigeria, has, while lauding the Federal Government for taking prompt steps to end the crisis between Fulani herdsmen and farmers in the affected states, said that while the farmers produced the food we eat, that Fulani herdsmen provide milk and meat to the country.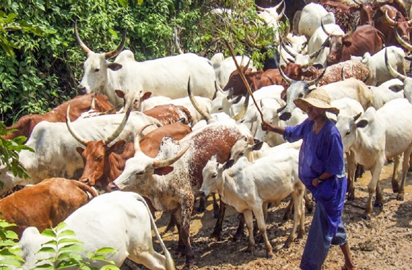 The national president of the association, Ahmed Bello-Torob, gave the statement while speaking with newsmen in Kano on Friday.
He said the prompt action taken by President Muhammadu Buhari by directing the Inspector General of Police, Mr. Ibrahim Idris to move to Benue was a right step in the right direction.
Bello-Torob also lauded the government for deploying soldiers to the affected three states: Taraba, Benue and Nasarawa to maintain law and order as well as prevent possible escalation of the crisis.
He said the measure would not only restore peace and order in the states but would go a along way in preventing the spread of violence to other neighbouring states.
The group leader cautioned farmers and Fulani herdsmen against engaging in acts capable of promoting animosity between them, stressing that they both needed each other.
He said "While farmers produce the food we eat, Fulani herdsmen provide milk and meat as well as contribute to the economic growth and development of the states where they live.
"So in essence, we can say that farmers need Fulani herdsmen and vice versa for the country's economic growth and development," Bello-Torob said.
He urged Taraba and Benue State Governments to reconsider the anti-grazing law they established recently in the interest of peace and unity of the country.
He, therefore, urged the Federal Government to come up with some programmes that would ensure a lasting solution to the problem for the sustenance of peace not only in the affected states but across the country.