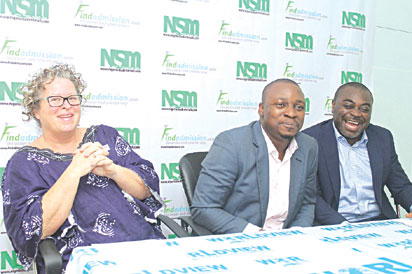 From Left: Mrs. Karen Perez, Findadmission Canada Visa Counsellor, Folabi Obembe, CEO/ President Worldview International Group and Akin Naphtal, CEO, InstinctWave at the press brief introducing Findadmission.com in Lagos.
Byy Princewill Ekwujuru & Destiny Eseaga
New  technology, design and availability have been identified  as responsible for the  intense competition  for market  share  in  the home appliances sector of  the fan  market.
This has led to deployment of various types of technological enhancements by fan  manufacturers aimed at improving consumer experience with their products.
The enhancements include music playing capacity, Bluetooth enabled capacity, liquid crystal display, LCD, cooling agent and rechargeable power source.
The  major contenders for the market are ORL, Binatone, OX, Sonic, QASA, Lontor, STC and Panasonic, all imported brands.   Others include  Linsan, Kenstar, Deluxe, Sonik,  Deco.
Vanguard  Companies and Markets, C&M  investigation revealed a growing demand for fans driven by hot weather, increased population and growing real estate development.
The need  to satisfy the growing    demand informed the production of fans of various sizes and capacities, colours and stylish designs that are consumer pocket friendly.
Hence the market is proliferated with different types of fans such as Wall and Window mounted, floor-standing, Ceiling mounted and others.
To maintain  market share, the top contenders have developed and introduced   power efficient fans that  use battery, as well as fans with two blades  that give a great cooling output.
Other innovations include remote control  and programmable timer.
The competition is further heightened by increasing    volume of imported second hand  portable fans.
C&M  findings showed that  major marketers have not neglected the distribution concept of delivering the products directly to the wholesalers for  sale to the retailers.
C&M  findings showed that most consumers' patronage is influenced by brand names as well as durability, design, availability of the product as well as referral from other consumers.
Problems
Fans like other home appliances have their peculiar problems in spite of the technological innovations.
C&M  findings revealed that  with  fan engines made from aluminium are more problematic and less durable than    fan engines made from    copper coils.
Consumers' speak
Some of the consumers also claimed that second hand      fans are more durable than the new ones, though some said they patronise them due to economic condition.
Speaking to  C&M,  consumers were divergent in their preference for the different brands. Though    majority indicate preference for    ORL, Binatone, OX,  QASA, Lontor and STC; ORL, Binatone, OX,    came      topmost in consumers' mind due to    their durability and cool air output.
A consumer,  James  Jolomi, prefers OX    because it is a brand that has been able to connect with consumers in terms of affordability and durability. "I love OX for its energy-efficiency. It is an alternative to air-conditioners."
Another consumer, Matthew Olayemi said he prefers ORL for its low power consumption and silence. "But I am looking forward to trying QASA because of the commendations I had gotten from friends who use the brand", he said.
Hassan Al-Hassan said he prefers imported second hand fans because they are cheap and serves  his  purpose.
Experts' response
Speaking to C&M, a fan technician, Muyiwa   Adelotan, whose shop is located at Isasi, Lagos, confirmed that fans made of   copper coils are more durable and suitable for the Nigerian environment, "most of the fans in the market  are made from    Aluminium. When choosing a fan you need the help of a technician."
In addition, Ayo Onile, a specialist in repair of different types of fans, located at Alaba International market, Lagos stated, "not every service technician understands    fans produced these days, so you need an expert to choose a good fan for you."