By Lawani Mikairu
Federal Airports Authority of Nigeria, FAAN, Monday said it has commenced evacuation of abandoned aircraft at the airside of the Murtala Muhammed Airport, MMA, Lagos.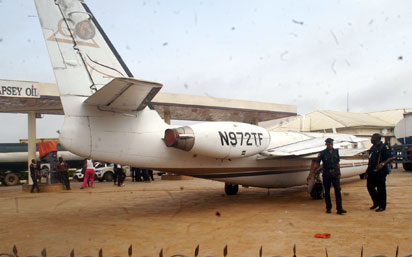 There are more than 13 aircraft abandoned at the airside of the airport. Despite several warnings by FAAN to the airlines that owned these abandoned planes to relocate them, nothing has been done .
Confirming this development, Mrs. Henrietta Yakubu, the General Manager, Corporate Communications, FAAN said four of the abandoned aircraft were relocated last Friday while additional four would be moved yesterday (Monday). She further said that FAAN had told the owners of these aircraft to relocate them away from where they are presently abandoned without any fruitful response from them, stressing that where they are presently abandoned constitute danger to safety and smooth operations of aircraft.
Yakubu listed the names of the aircraft relocated last Friday by the agency to include those of Associated Air, IRS, Dana Air and Hak Air. "Others that would be moved today(Monday) are aircraft belonging to the liquidated carrier, Air Nigeria, Associated Cargo, Bellview, JedAir, Precision Aviation Handling Company and PAC, TopBrass and others".
On the need for evacuation now, she said "the relocation became necessary in order to give more space for airworthy aircraft to land, take off and manoeuvre as expected during operations at the airside". Adding thatFAAN would continue to take safety and comfort of airport users as a top priority.
According to Yakubu : "As at Friday, we moved four aircraft from the airside and the General Aviation Terminal (GAT) of Lagos airport told me again this morning (yesterday) that they are going to move another set of four aircraft. We have about 13 aircraft abandoned at the airside.
"We have taken the legal issues into consideration, if you agree with me; these aircraft are not helping us in anyway. They are taking up a lot of space. Space for aircraft landing and taking off are being taken by these aircraft.
"The airports belong to FAAN, which means that it is the property of the Federal Government and there is no airline that is bigger than Nigeria. Nigeria has given them a long time to be able to move their aircraft and they have refused to do this. FAAN is not taking possession of their aircraft, but we are moving them away from where they are to another place within the airport where they will not serve as eyesore and where they will not constitute nuisance to activities on our airside.
"What we are doing is part of the services FAAN is providing; comfort and security. So, for security, these aircraft have been abandoned at the airport for long and miscreants can just go in there and do whatever they want. We want our airports to look beautiful and fine, the aircraft that are littered around, it defaces the beauty of our airside ,"she added
She also revealed that plans have also reached an advanced stage for the agency to install Closed Circuit Television (CCTV) cameras at strategic locations within the airside in order to forestall aircraft poaching and other incidences.
She said : "What we had in the past was that the 'Follow Me' vehicle used to be in the front of aircraft, but we have decided to reverse the order. The vehicles are now at the back of the aircraft to ensure that the aircraft go to parking bay without any incident or aircraft poaching."