A good Christian should "not sit around" waiting for things to happen and should do good "even when unasked," Pope Francis said during an Epiphany Mass on Saturday morning.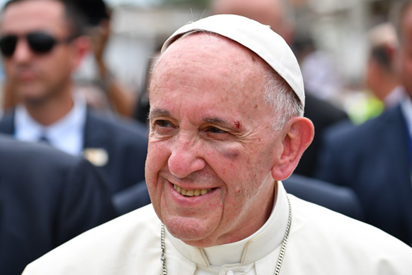 The faithful should not allow themselves to be content with "health, a little money and a bit of entertainment," the leader of the world's 1.2 billion Catholics warned.
"Jesus allows himself to be found by those who seek him, but to find him, we need to get up and go – not sit around, but take risks; not stand still, but set out," Francis said.
"If we want to find Jesus, we have to overcome our fear of taking risks, our self-satisfaction and our indolent refusal to ask anything more of life," he added.
The pope delivered the homily during a solemn service in St Peter's Basilica attended by cardinals, bishops and other clergy members.
The Catholic feast of the Epiphany, falling on January 6, marks the day when the three kings are believed to have brought their gifts to baby Jesus.
In Italy and other Catholic countries, it is a sort-of follow-up to Christmas, as people usually exchange more gifts.
Francis urged listeners to honour the festivity by being selfless.
"To do good without counting the cost, even when unasked, even when you gain nothing thereby, even if it is unpleasant: That is what God wants," he said.
"[God] asks us to offer something for the least of his brothers and sisters. Who are they? They are those who have nothing to give in return: the needy, the hungry, the stranger, the prisoner, the poor," Francis said.
After Mass, the pope addressed crowds in St Peter's Square from the window of his study and extended "the most cordial wishes" to Eastern Rite Catholic and Orthodox Churches which celebrate Christmas on January 7.
"May this glorious celebration be a source of new spiritual vigor and of communion among us Christians," he said.(dpa/NAN)