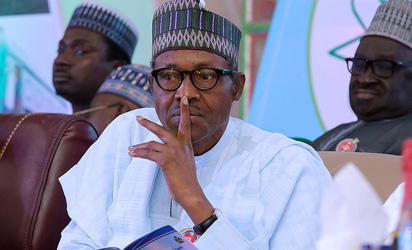 President Buhari
By Chimaobi Nwaiwu
NNEWI—PRESIDENT Muhammadu Buhari has been urged to dismiss all the chiefs of security agencies in the country for failing to end killings by Fulani herdsmen.
The angry reaction is coming from an elder statesman and former President-General of Onitsha Markets Amalgamated Traders Association, OMATA, Chief Pius Ozoh Anaekwe, who accused the service chiefs of not  taking their jobs seriously.
Addressing newsmen in Onitsha, Chief Anaekwe said the problem with Nigeria was pretence and deliberate refusal of the political class to tell the president the truth.
He said: "If  for the over two years of President Muhammadu Buhari's administration, the Department of States Services, DSS, cannot find out how the herdsmen acquire AK47 they carry about, what is the Director General still doing in office? He should be removed. You don't retain somebody that is not doing well and even go as far as extending his tenure when he is due for retirement.
"Nobody wants to say the truth, particularly the political and leadership class who should tell Mr. President the truth on what to do if he does not know. They have deliberately refused to tell him the truth."
even the service chiefs and leaders of the security agencies in the country have decided not to advise the President on better ways of tackling the problems of the herdsmen.
"Look at what is happening in the Middle Belt, particularly, Benue State. Are you telling me that the Service Chiefs from the Nigerian Police, Nigeria Army, Navy, Air force, the Department of States Services, DSS cannot suppress the herdsmen from their heinous attack of the people in Benue and other states of the federation?
The truth is that they are just pretending and refused to advice the President well, if they cannot suppress the herdsmen from killing the people in Benue state, why should Mr. President retain them, he should sack them for their deputies to take over and address the problem.