By Monsuru Olowoopejo
Governor Akinwunmi Ambode of Lagos State has disclosed that the state government has adopted new strategy to address challenges confronting girl-child education in the society.
Ambode said that new strategy, which is construction of female based schools, would help expend the opportunities for girl-child education in Lagos.
The governor disclosed the government plans at the commissioning of Lagos State Junior Model College, Agunfoye, Igbogbo in Ikorodu Local Government.
Ambode, who was represented by his deputy, Dr. Idiat Adebule, said that the construction of the schools was a strategic investment into the future generation.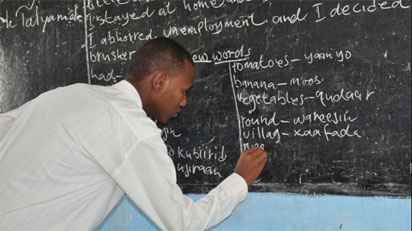 "The girl-child has special place in the heart of the state government and that is why we have decided to give them good and conducive environment for learning. With this edifice, they will be able to compete favourably with their male counterparts in the state.
"A conducive environment for any female student with qualified teachers will make them excel. We have that conviction and that is why we have decided to establish this school," he added.
The governor hinted that the construction of the school has increased the number of model colleges to 30 in the state.
Ambode, however, tasked teachers to rededicate themselves towards delivering qualitative teaching to the students, saying, I can assure you that your diligence and sacrifices will not be in vain.
Earlier, Chairman, Lagos State Universal Basic Education Board, SUBEB, Dr. Ganiyu Sopeyin, hinted that plans have been concluded to commission more schools to boost standard of education in the state.