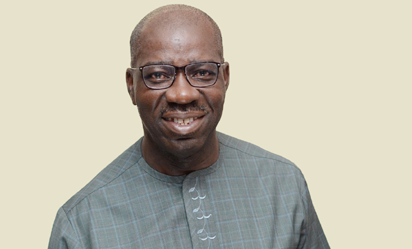 Obaseki
… MoUs in line with best business practice
It is laughable for the dying Edo PDP, perhaps bereft of quality ideas to resort to bogus claims and lies that the Governor of Edo State, Mr Godwin Obaseki, has travelled to 72 countries in one year.But how possible is that by the way? The ailing party also tried to question the status of the ongoing Benin Industrial Park project, the Gelegele Seaport and the modular refinery projects.
We understand that these projects are way beyond the capacity of Edo PDP to even imagine as they lack the knowledge and the global contacts to make these gigantic projects happen in a state like Edo, which they ruined and turned into a civil servants' state.
The projects are well on course and the Memoranda of Understanding signed with the respective partners are in line with best business practice.
We will not be swayed by a gang of street dancers and bandits. We have our eyes on the ball of progress and prosperity for all Edo people and residents. The signs are clear, every step we take is measured and if there is anything Obaseki has in abundance, it is business ideas and strategies to realise them, without making a show of it.
The Edo PDP has people who are not qualified to manage even a small kiosk and are in awe about the ease with which Obaseki has kicked off gigantic projects which they cannot even imagine is possible to achieve.
The efforts of the Governor Godwin Obaseki-led administration to put the state on the world map as one of the fastest growing industrial hubs in Africa are yielding results.
The Chinese consortium comprising Peiyang Chemical Equipment Company and Sinopec Oil and Gas Nigeria, handling the construction of a 5,500 barrels-per-day (bpd) modular refinery, have started preliminary work and have given end of 2018, as dealine for the completion of the first phase of the project, a 500bpd facility.
The phase two of the modular refinery, has a capacity of 5000bpd and would be embarked upon after completion of the first phase.
The construction of the Benin Industrial Park has since commenced with the ground-breaking ceremony done by the Vice President, Prof. Yemi Osinbajo last year and land preparation is already in progress.
The Gelegele Seaport project: Contrary to the fears expressed by many stakeholders over the capacity of any state government to realise the Gelegele Seaport project, the Obaseki administration has defied all the barriers and China Habour Engineering Company (CHEC) Ltd, the experts engaged by the Edo state government, for the construction of the Gelegele Seaport project has commenced preliminary work. The senior officials of the company arrived Benin City last Tuesday to commence preliminary development amid fanfare in Gelegele community.
These are verifiable facts, not fiction!