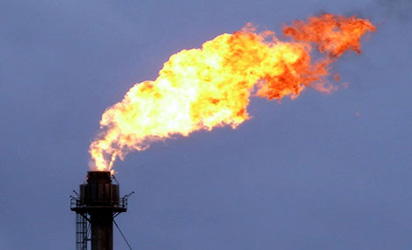 *Gas flare
Plans by the Edo State Government to improve power supply in the state through partnership with oil and gas companies in the state, have received the buy-in of Sahara Energy.
The innovative energy solution includes the conversion of gas, hitherto flared, to electricity that will be used to power hospitals, schools, street lights and other public utilities.
Governor of Edo State, Mr Godwin Obaseki, said this after the weekly Executive Council (EXCO) meeting, held at the Government House, Benin City.
Obaseki explained during the unveiling of representatives of Sahara Group, led by the chairman, Engineer Funso Kupolokun, that the company has indicated interest in partnering with the Edo State Government in the area of electricity generation through the exploitation of the state's gas assets and other key developmental areas.
Managing Director, Sahara Energy, Tonye Cole, lauded governor Obaseki for opening up the space for investment in the state, adding that the governor has expressed interest in collaborating with Sahara Energy in the areas of electricity and curbing illegal migration.
"The governor has committed to stop gas flaring and to convert it to electricity. This ties 100 per cent to what we stand for. On the issue of illegal migration, which has become the biggest problem in the state, we are standing here to give hope to the people and commit to developing the nation," Cole said.