"What does corrupting time not diminish?…" Horace,65-8 BC. "You cannot adopt politics as a profession and remain honest." Louis McHenry Howe, 1871-1936. (VANGUARD BOOK OF QUOTATIONS, VBQ, pages 247 and 192.
By Dele Sobowale
There is an exception to every rule. Two sages in history, Horace more than 2025 years ago strongly believed that nothing can endure the buffets of fate and time – not even the reputations of human beings and perhaps especially politicians.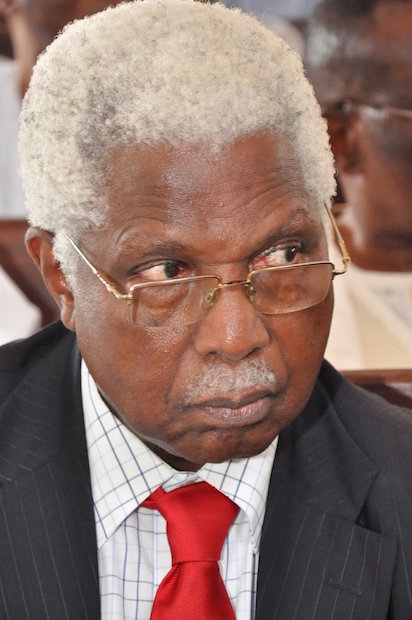 Howe, after observing the deceptions, dishonesties and skullduggery of American politicians for over 160 years must have concluded that, not only in America, but all over the world, politicians will for ever be dishonest. The broad sweep of history favours both of them.
Trawling the mountain of evidence which global and national history provide, it is difficult to disagree with Edward Gibbon, 1734-1794, that "History, is indeed, little more than the register of the crimes, follies and misfortunes of mankind" – mostly committed by political types.
But just as one is about to accept the declarations of the wise men as absolute truth, a few noble characters turn up to remind us that God in his infinite wisdom and mercy sends forth a few individuals whose footprints on the sands of their time will be indelible for ever – even when the present generation of their people don't appreciate the importance of the lessons they impart.
Horace lived before our Lord, Jesus Christ, and could not have imagined that such a perfect specimen could walk the Earth whose stature time could not diminish but continuously expand to the end of time. Howe was a witness to the fact that Horace exaggerated; that there are certain elements in history that time cannot devalue. But, the last place, even he would have expected to find a real human being who will approach that lofty standard is Black Africa. He did not live long to know Nelson Mandela – whose generosity of spirit was most divine and universally acknowledged till today. Time will never diminish that stature. Indeed, his successors, ordinary politicians, continue to polish Mandela's image.
Did Nigeria miss out altogether in producing a leader comparable to Mandela? Certainly not; as long as we don't assume that one has to become President to set a long lasting example for nobility in politics. To prove the point, permit me to go down some history of party politics in Nigeria. I will also touch on some of the leaders who shaped our past and present. Names like Azikiwe, Ahmadu Bello and Awolowo readily come to mind. That is expected.
My personal experience with Nigerian party politics is longer than most people realize. I have seen all sorts of characters since the age of seven, my father, an Ijebu man from Epe Local Government was madly in love with Dr Nnamdi Azikiwe. He would probably have considered it if the great Zik asked him to sacrifice one of his three sons. I was one of them. His best friend, Mr Etim, now I know an Efik man, from Calabar (but in those days, everyone from the Eastern Region was a kobokobo), was just as fanatic about Chief Obafemi Awolowo, an Ijebu man.
One fateful day as the election for Mayor of Lagos was approaching my Dad gave me a bunch of posters with the picture of Zik and the symbol of the NCNC to go and paste all over Lagos Island. Mr Etim gave his son, Esua, another bunch of posters, with Awolowo and the Action Group party symbol to go and paste. Shortly after setting out, the two sons had a "reconciliation meeting". Instead of both of us going all over Lagos Island, we divided the territory into two and each carried the two bunches of posters. Job done in half the time, we headed for the Race Course to play football. We returned to find our fathers drinking Palm Wine at Evans Street. It was totally politics without bitterness.
It is difficult to pin-point when friendly political rivalry degenerate into "do-or-die" during the First Republic, but by 1963, arson, murder, pyromania have taken over the politics of the Western Region in what became known as the Wild Wild West. The first coup brought a more violent end to what was already shaping up as absolute descent into the Dark Ages. For thirteen long years Nigerians were subject to the arbitrary rule of armed men.
The civilians returned in 1978-9 to form five political parties – NPN, UPN, NPP, GNPP and the PRP. The major surprise was the emergence of Dr Alex Ekwueme as the Vice Presidential candidate of the NPN. Even those of us who had kept close watch on politicians as they regrouped under various false names, despite the ban on politics, had to check and re-check our memory cards and we could still not find Ekwueme on the list of known politicians. Two questions immediately came up. Who is this man who came from literally nowhere and was ready to become Nigeria's number two citizen? What were the qualities which recommended him to the biggest of five parties which had several political heavyweights to select from?
Some of the answers were provided during the campaigns. The "Old boy" of Kings College, Lagos exhibited all the nobility that the institution drilled into him while in school. Not once during the campaigns did he raise his voice in anger and insult against anybody. He always was an issues person. Even after his party won twice, Alex Ekwueme never once lost his cool – irrespective of provocation. But above all, he was the first totally honest politician in high office I have known. Two examples will illustrate the point.
First, once elected Vice President to Alhaji Shehu Shagari in 1979, Ekwueme voluntarily wound up his firm – Ekwueme Associates and Town Planners – in order to avoid charges of conflict of interests. It was probably a first time in Nigeria that an elected official would do so.
The second example was a testimonial given in the absence of Ekwueme by late Dr Wahab Dosumu, the Minister for Housing under Shagari's government. Dosumu who attended Baptist Academy on Lagos Island was a classmate to my senior brother. He was also the first person known to me to have received the ASPAU scholarship to study in the USA. Ekwueme and Dosumu might have met in Washington State. Because I was also an ASPAU scholar, Dosumu was very close to me during his years as Minister and later Senator.
One day, "Egbon", as I called Dosumu, and I were discussing corruption in government. I was broadly castigating all political office holders when he stopped me and with a very serious look on his face.
"Dele, there is one man about whom you can't say that."
"Who is that?" I asked totally disbelieving it.
"Dr Alex Ekwueme, the former Vice President."
"Oh yeah? Where is the proof, Egbon?"
Then he told me an incredible story. After six months in office, during which everybody else in top government or party position had made at least a request for contracts for themselves, their wives, mistresses, friends and traditional rulers, he noticed that the only official who had not made a request was the VP. So, Dosumu decided to surprise the boss. He packaged a very lucrative contract, headed for the VPs office, after booking an appointment. After the usual pleasantries he then dropped the envelope on the VPs' table while mentioning that "there is a contract there for you Sir."
Instead of the broad smile of gratitude he expected, the VP's face contorted in anger before the explosive words came.
"Wahab is that why we are here in government? Is it because we can't make money any other way? Have we been elected for this? "Without opening the envelope he threw it back at the Minister and ushered him out. Egbon said he had never felt so small in his life. But, he kept watch to see if it was a ruse. Till the military kicked them out on December 31, 1983 he never heard of any instance of self-enrichment concerning Alex Ekwueme. That alone should have earned him a place in the pantheon of our noble leaders – which includes Aminu Kano, Ahmadu Bello, Professor Olikoye Ransome Kuti and Audu Bako.
When Sani Abacha announced the return of the self-legalized armed gangs in Nigeria on New Year's Eve, politicians were ordered to report to the nearest Police Station. President Shehu Shagari, who was tipped off a few hours before the broadcast, was already on the run in one of the Shagari Mercedes of the era (now lying in Abuja) together with two or three Peugeot 504s – one loaded with petrol for a long trip – possibly out of Nigeria. The convoy was eventually overtaken and Shagari landed under house arrest in a Government Guest House, well attended by stewards and his wives.
Alex Ekwueme, too well-drilled at KC to obey constituted authority, meekly reported at the nearest police post and was immediately clamped into Kirikiri Maximum Prison by the Buhari/Idiagbon junta. Despite all the investigation which confirmed his innocence, he was to stay there until Buhari was divinely removed from office in 1985.
Was his time wasted? The answer is "Yes" – if you think of the short span of history since 1983 till now. It must be "No" – if you consider what the Almighty has used this absolutely marvelous man to do for Nigeria while incarcerated unjustly.
"Prosperity doth best discover vice; but adversity doth best to discover virtue." Francis Bacon, 1561-1626. VBQ p 4.
Prisons anywhere are not the best places for fostering virtuous conduct. Nigeria's penitentiaries invariably breed more hardened criminals. But, Ekwueme was not a criminal; he was a victim of a mindless military regime, which like a child given a hammer suddenly discovers that everything must be hammered. So what would be his fate?
History will record that it was while in Kirikiri that Ekwueme's immense leadership qualities began to show. He was not the only political office holder tossed into the can. He had company – Governors, Ministers, heads of Agencies etc. After the initial shocks of finding themselves where, only a few weeks before, they least expected, the VIP prisoners became a group irrespective of which of the five political parties to which they belonged. I know; because my eldest brother, who was Commissioner under Jakande, was first among them before he was transferred to another detention centre.
Commissioners were considered small fry when there was "no room in the inn" for Ministers and Governors. Within weeks, everybody had accepted Ekwueme as the leader. Incidentally, it was not because he was the highest ranked prisoner; it was because he was the first to snap out of the depression which enveloped all of them and was the counselor to the rest. Misery might love company, but, it loves a comforter more. Forgetting his own problems, he undertook to help the others. None would ever forget it; even if they lived a thousand years. "The remission of pain is no small part of human happiness." (Saul Bellow, VBQ p 180). Ekwueme went out of his way to make his colleagues as happy as possible.
The result was the first tentative plans to form a broad-based, all-inclusive political party once they are sprung loose as expected when the draconic Buhari regime was kicked out. In prison, the town-planner, physical bridge builder had been transformed into a political bridge builder and it was only a matter of time before he would leave another indelible mark on the sands of time in Nigeria.
Released from prison and barred from participating in General Babangida's transition to civil rule, Ekwueme returned to his "alternative address" as Dr Muiz Banire says about those who can survive without political appointments. He must have been mildly amused when IBB announced the creation of two political parties. The Social Democratic Party, SDP and the National Republican Congress, NRC were probably the only political parties created by government anywhere until Abacha, a poor copy-cat, created five during his regime.
Babangida's house of cards collapsed on June 12, 1993 and the return to civil rule was postponed once again.
Abacha forced his way into office and started by making the same promises IBB did about the armed forces not staying "a day longer than necessary" to return the country to civil rule. IBB was in office for eight years; Abacha would have remained longer than five years. But, the Almighty had other plans for Nigeria. Between the time he seized power and his sudden death in 1998, Abacha put the country through another National Constitutional Conference, NCC; established five government approved and funded political parties and was well on the way to being declared the sole Presidential candidate of all the parties when the curtail call came.
It was during the darkest days of the Abacha administration that Ekwueme came forward to claim leadership of a small group of courageous men who did not run away into exile but stayed to confront the dictator. First, he actively participated in the 1994-5 NCC and made the lasting contribution of getting the six geo-political zones recognized as a basic part of our political structure. He also actively supported the brave push by another Southerner, Obong Victor Attah, representing Akwa Ibom State, to get the thirteen per cent derivation principle for all mineral producing states without offshore-onshore dichotomy entrenched in our laws. The Niger Delta has benefited immeasurably.
The two were soon to join hands in another venture that, unknown to both of them, almost claimed their lives. While Abacha kept the cream of the Nigerian political society busy at what the media called "the Confab", the dictator was quietly installing his hand-picked workers in the five political parties who ensured that only approved candidates won all the elections from ward level to the National Assembly. Alarmed and dismayed, Ekwueme swung into action. He gathered a small band of thirty three of the most courageous politicians Nigeria has ever produced to form what was later to be known as the G-34. Victor Attah was naturally one of them. Others included Abubakar Rimi and Balarabe Musa (former PRP), Bola Ige and Ayo Adebanjo (former UPN), Jerry Gana and Solomon Lar (former NPP), Adamu Ciroma and Sunday Awoniyi (former NPN) and one Dr. Attahiru Jega (remember him?). Nobody in Nigerian history before or after that has ever achieved the feat of getting so many political adversaries to come together to join hands to fight a common enemy – at the great risk of their lives – as Ekwueme did in 1998.
Ekwueme and the rest of them might not know it, but, the late dictator had vowed to eliminate all of them once sworn in as the civilian President in October 1978. God had other plans.
Two letters, each of which should rank in the test of courage, self-sacrifice and patriotism with Reverend (Dr) Martin Luther King Jnr's WHY WE CAN'T WAIT written to white Americans in the 1960s on behalf of all African-Americans set the ball rolling.
The first was signed by Solomon D Lar and Co. It was titled WE REJECT SELF-SUCCESSION.  The second penned by Attahiru and CO was even more blunt. It was titled VACATE POWER. In 1998 that was akin to a bunch of rats telling a fat and hungry cat to get lost. Insiders in Aso Rock reported that the man merely smiled. People who were at death's door threatening the executioner was a joke. Why, he could even have them rounded up and charged with planning a coup. But, he would wait. Their end will serve as the opening shot for his rule as civilian President. Abacha died a day before the elected members of the National Assembly were to meet and declare him the sole candidate at a meeting convened by Senator Arthur Nzeribe.
The new Head of State announced a new transition to civil rule programme. Permission was given for politicians to form political parties. Not surprising, the G-34 formed the core of the first party in 1978. Headed by Dr Alex Ekwueme, the Peoples Democratic Party, PDP, included all the names mentioned so far and more. It was the first time an Igbo man would start a truly national political party. And it became the biggest in Africa. Ekwueme was its first Chairman and was well on the way to becoming its first presidential candidate. But, while General Abubakar might have meant it when he promised Nigerians a free and fair election in 1999, some of his bosses in retirement had different ideas. The election might be free but certainly not fair. To them Ekwueme, for a lot of reasons, was unacceptable. The major reason being his reputation from 1979 to 1983 as a honest politician.
So, a plot was hatched by four Generals, three retired and Abubakar to impose a candidate on the PDP. Applying a combination of fraud and thinly disguised force, they got the party to accept Obasanjo as their Presidential flag-bearer. Obasanjo was unqualified in every way possible to contest that election. His nomination violated the party's constitution and he was not even fully pardoned for his alleged coup attempt until after the elections. Ekwueme could have gone to court and challenged OBJ's selection but he did not. For whatever reason, his loss of the nomination was the beginning of the end of the PDP.
For me, the sale of the PDP to Obasanjo and the military was the turning point. After Obasanjo, fresh from jail and almost destitute donated N220 million to the party, with a first installment of N130 million, I published an article in SUNDAY VANGUARD on February 21, 1999 titled: TO MY BROTHER ALEX EKWUEME. The concluding part of that lengthy article is reproduced below.  "But, as events unfolded, as N130 million was first donated by faceless manipulators and billions more weighed in on the side of continuation of military rule by other means, it became increasingly clear that the party you once called "my baby" would be snatched from you by powerful groups hell-bent on ensuring that the clean break with the past does not occur."
Ekwueme must have read it, but, it is doubtful he believed the prediction. He was still riding high. At any rate, it is a fact that "In times of victory, prophets are unnecessary distractions." (Trevor Roper). The PDP won the presidency and he sat back to see all the ideals spelt out in the party's constitution implemented. He waited for ever. Inexorably, the vultures moved in and Ekwueme got push increasingly to the periphery of PDP power.
In the end, he was barely mentioned among the party leaders to consult; few even remembered that the party started in his living room.
One thing however will stand forever as credit to his account. Twice in a position to corruptly enrich himself, Alex Ekwueme, Old Boy of Kings College, remained honest and noble. The Nigerian political environment was simply not meant for someone with a soul as beautiful as his.
P.S. We met only twice in life. The first time was in 2005. When I introduced myself, his remark was "Are you a prophet or a wizard?"
In 2013, he joked. "Why not start a church? The way your predictions come true you might make a lot of money."
"But, Sir, making money has never been your major objective. Living honourably has been."
"That is true, Dele."
May your soul rest in perpetual peace, Sir.