By Evelyn Usman
The Lagos State Police Command has dismissed three policemen because of the  indiscriminate shooting that led to the death of a youth and injury of another, in the Amukoko area of Lagos.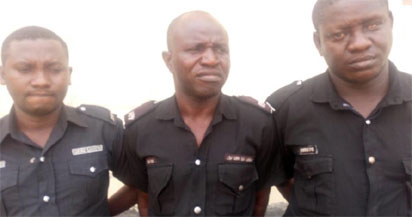 The erring  policemen attached to Amukoko division  are : Sergeant Osaseri Saturday with NPF number 25759 , Sergeant  Segun Okun with number 35 9075 and Corporal Adekunle Oluwarotimi with number 496833 .
The trio, as gathered, shot at some youths they alleged  hurled stones  and sticks at them, at about 9.30pm, last Thursday,  at Ifelodun street.
Life,  was snuffed out of one of the youths by a bullet from the policemen, while another was injured in the process.
The incident  sparked a protest in the area, with youths calling for justice.
The no-nonsense command boss, Police Commissioner Imohimi Edgal, immediately ordered the arrest of the policemen and subsequent Orderly Room trial to ascertain their culpability.
Spokesman for the Command, Chile Oti, explained that "they  were arrested, detained and tried immediately on the orders of  CP Edgal Imohimi.
The guilty verdict was passed on them by the adjudicating officer who considered that the officers did not  appreciate the situation critically and ought not to have applied  maximum force on the unruly youths.
Meanwhile, the policemen will be charged to court next week, while a  duplicate copy of the case file will be sent to the Directorate of Public Prosecution, DPP, for legal advice.
Sequel to the above occurrence, the CP has directed all the Area Commanders and Divisional Police Offices ,DPOs, in Lagos State to warn their men against misapplication of force. He further warned that officers must abide by the Rules of Engagement (ROE) as stipulated in Force Order 237."