Despite crashing out of the African Nations Championships, CHAN, Equatorial Guinea Head Coach, Rodolfo Bodipo has ruled out doing Nigeria any favors when the sides clash in the final group C clash on Tuesday at the Le Grand Stade in Agadir.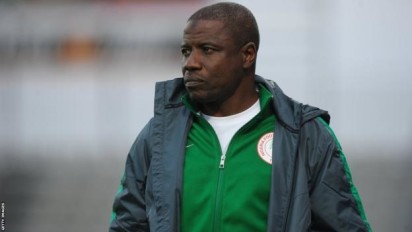 Equatorial Guinea were eliminated on Friday following the 1-0 defeat to Rwanda at the Stade Ibn Batouta in Tangier.
Speaking after the match, Rodolfo said, "We tried to create some problems for the opponent. We have a young team and we are doing well. The players played without pressure.
"It was really cruel for us today because we played well, but we did not win. We made mistakes that we paid cash. We have gained a lot of experience.
"Our goal was to have experience. Even as if we are eliminated, we will play hard against Nigeria."
Early on Friday, Nigeria defeated Libya 1-0 courtesy a Sunday Faleye goal, and have now secured four points.
A win against  Roldolfo's men at the Stade Adrar in   Agadir  on Tuesday will guarantee a quarter final spot for Salisu Yusuf's Eagles.