By Onozure Dania
Chairman of Christian Association of Nigeria, CAN, South-South, who is also the Chairman of Niger Delta Bishops, Archbishop GodDowell Avwomakpa, yesterday, urged Christians nationwide to pray for the people of Benue State, especially those affected by the recent killings by herdsmen in various communities in Logo and Guma Local Government areas of the state.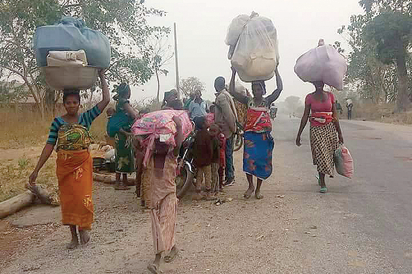 Avwomakpa made the call during a prayer session with some pastors of the Christ Missionaries Crusaders International Worldwide, Ekpan, Warri, Delta State.
According to a statement by Ovie Edomi, Special Adviser on Media to Archbishop Avwomakpa and Ese Otedoh, Head of Media, Christ Missionaries Crusaders, the archbishop noted that God is the author of life, so men should not derive pleasure in killing fellow humans, as God will make those who kill account for their act.
The cleric noted that even the traditional religion does not support killing.
He urged clerics to teach their followers the right thing and called on the nation's leaders to fear God and do the right things.
…wants military in Benue
He also called on Christians to protect the Church as the laws of the land permit and urged President Muhammadu Buhari to recall the Police from Benue State and despatch military to confront those alleged to be coming from Mali, Niger, Senegal, Morocco among others, to kill Nigerians in their own communities.
Avwomakpa, while expressing the condolences of the Christians in the South-South region to the government and people of Benue State, assured Governor Samuel Ortom that God is aware of the pains that he and his people are going through, assuring them that God has pleasant surprises for the people and the nation.
He urged Christians in the state to stand in the gap, so that God will prove to the people that He has not forsaken them.