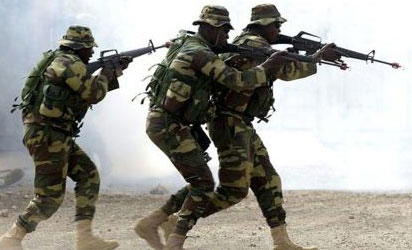 Army
By Ike Uchechukwu
CALABAR—More than 80 Cameroonian soldiers, early yesterday, crossed the  international border between Nigeria and Cameroun and invaded Danare in Boki Local Government Area of Cross River State, claiming they were  fighting Cameroon militants who took refuge in the community.
Vanguard learned that more than 3,000 refugees from Cameroun are currently taking refuge in Danare, which borders the Central African country.
A group of Danare indigenes, led by a former councillor in Boki coucil,  Dauglas Ogar, who  addressed journalists in Calabar, yesterday,  said the gendarmes stormed their village about 2p.m., yesterday  and  started shooting, sending people running for  safety.
He said: "Our people did not sleep yesterday because the gendarmes from Cameroun invaded our community claiming to be looking for Ambazonia militants.  The militants, who have since taken refuge in the surrounding forests, were also shooting and the whole community was in chaos.
"It is important to recall the sad invasion of Danare communities by  Cameroonian soldiers on January 25 this year when more than 80 well armed Cameroonian soldiers crossed the international boundary in the Danare-Daddi/Danare-Bodam international border openings and abducted five natives.
"By the time they left this morning (yesterday), they said their mission was to warn residents of Danare communities to be aware of their return to carry out a military raid.
"According to them, it was intended to cleanse Danare communities of all Ambazonia refugees' threat to the Cameroon Government.
"The soldiers threatened to come back to Danare to execute the proscription of Southern Cameroonians taking asylum in Danare as a result of the ongoing Anbazonia crises which resulted in the mass influx of refugees from neighbouring Southern Cameroon villages to Danare  communities and many other Nigerian border communities.
"This is a calculated offensive from Cameroon military on Nigeria. They have shown outright defiance to Nigeria's territorial sovereignty and dammed the consequences of crossing the international boundary to carrying out all sort of intimidation and harassment on already alarmed citizens of Danare, with warnings of their further assault."
He noted that the current situation in their community points "to how weak the Cameroon government sees Nigeria and its security consciousness.
"They have weighed the vulnerability of defenceless residents of Danare and concluded that it was capable of inflicting mass death on the citizens of Nigeria and refugees of Southern Cameroon hosted in Danare."
He explained that  the breach of the country's internal security was posing a serious danger to the peace and safety of residents, the refugees and  the entire Boki communities in Nigeria.
"The Paul Byia contingents are leveraging on the poor security state of Danare border and all Boki communities to hatch a well-thought out genocide," he said.