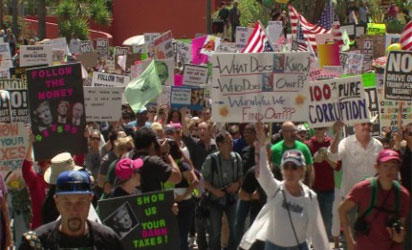 US citizens with placards expressing their various opinion in Trumps 100 days achievements
Enter California student city Berkeley, and you'll more than likely meet people marching and carrying signs.
Protest is deeply-rooted in the city across the bay from San Francisco, where a movement for campus free speech originated in the 1960s and launched a heritage of activism.

Now, in the face of an immigration crackdown since President Donald Trump took office one year ago, Berkeley is resisting again.
It is one of some 400 cities or communities — including New York, Chicago and San Francisco — that have declared themselves sanctuaries offering shelter to migrants who arrive illegally.
The entire state of California declared itself a sanctuary, and finances groups that protect immigrants — but Berkeley Mayor Jesse Arreguin says his city was the first.
It has been a sanctuary since 1971 when it sheltered Vietnam War draft resisters, and was a place of refuge again during Central America's civil wars in the 1980s.
"It is essential that cities take a stand against the unjust policies of President Trump," says Arreguin, 33, the California-born son of Hispanic farmworkers.
Since assuming office in January, Trump has clamped down on refugees and unauthorized immigrants on a number of fronts but Arreguin says: "These are people fleeing civil war, poverty, violence."
Trump announced the scrapping of a program that protected from deportation hundreds of thousands of migrants who arrived illegally as children.
His administration separately ended temporary protection for about 200,000 Salvadoran immigrants, and smaller groups of Haitians and Nicaraguans.
– 'Un-American' –
The president wants to build a wall on the Mexican frontier, while arrests of unauthorized immigrants by Immigration and Customs Enforcement (ICE) officers have soared since he took office.
In Berkeley, ICE officers get the cold shoulder.
"We obviously can't stop ICE from coming to Berkeley but what we had made clear is that we won't be involved in any way" in assisting them, the mayor says.
"No police officers or city employees will be involved in any investigation or any enforcement action" by ICE unless a judge issues a warrant, says Arreguin.
"To be anti-immigrant is really un-American," he adds.
Berkeley's police no longer ask the migration status of complainants or witnesses in criminal cases and, at the university, students don't need to show immigration papers in order to register.
City council set up a group to coordinate resources and plan responses in case of immigration raids, which have not yet occurred in Berkeley but have been numerous in Los Angeles and southern California.
Experts have noted that state authorities have limited room to maneuver, considering that US immigration policy is set at the federal level.
Manuel de Paz, a coordinator at East Bay Sanctuary Covenant which offers assistance to immigrants, says raids and deportation of migrants are not new.
Former president Barack Obama was known as "the deporter in chief," de Paz said, but the difference is that Trump uses language that "is hurting people so much."
Trump this month was quoted as calling African nations and Haiti "shithole countries" during a meeting with lawmakers over immigration.
– Increased fear –
Valeria Suarez, an undocumented University of California, Berkeley student, said "there is an increase of fear in the undocumented community."
Juan Prieto, another Berkeley student without legal status, says he wakes up every day "with fear of ICE agents coming to my family and detaining them."
Arreguin cites an increase in racist crimes in Berkeley, a climate of uncertainty in which it is very important for the undocumented to have support from public officials, said Eleni Wolfe-Roubatis, of the Centro Legal de la Raza, a legal assistance group.
That supportive environment contrasts with communities "where public officials are actively trying to identify the undocumented," she says.
In a church basement where about two dozen activists were assisting families, de Paz said that "since we've passed all these measures" for sanctuary, fewer people have contacted him to report that the sheriff had detained their relatives and handed them to ICE.
Suarez is more critical, saying that because Berkeley is not an affordable city, people are forced to live in neighboring communities where they lack sanctuary protection.
"I don't feel safe when my community isn't," she said.
Prieto noted that the neighboring city of Richmond is among those with a detention center where "community members that we love… are detained."
One of those held, UC Berkeley student Luis Mora, was just arrested near San Diego, further south. He was on holiday, and nobody has been able to free him.