Following the burning of Falae's farm, angry Nigerians have lampooned President Buhari over his continued silence over herdsmen attacks.
When contacted, Buhari's Special Adviser on Media and Publicity, Mr Femi Adesina absolved the President of any wrong-doing saying "this is not a Presidency affair.
It's clearly unacceptable — Afenifere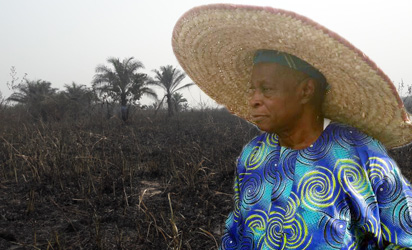 Speaking through its National Publicity Secretary, Mr Yinka Odumakin, the pan-Yoruba socio-political organisation, Afenifere said: "It is continuation of the declaration of war by armed Fulani herdsmen, who have been terrorising communities and are now burning farmlands. Now they have gone to Falae's farm.
It's like these people have made up their mind to go to war or have their way and the authority has refused to call them to order. The latest on Falae's farm is clearly unacceptable, an aggression by the Fulani and they should rest assured that the Yoruba nation will not take it lightly. If they think that with all these things they are doing, they will have one inch of land as cattle colony in any part of Yoruba land, they should forget it."
t isn't fair — Fani-Kayode
Condemning the act, former Aviation Minister, Chief Femi Fani-Kayode said: "Fulani terrorists have set Chief Olu Falae's entire farm in Ondo State on fire. Baba Falae is one of the most respected and revered leaders of Afenifere and the Yoruba nation. Only two years ago, the same Fulani terrorists kidnapped him and almost killed him.
"I ask Buhari and Miyetti Allah, does he deserve this? Is this fair? How many more people have to die and how many more farms have to be destroyed before you will call these barbarians to order and bring them to book?"
Blame Buhari for attack — Adebanjo
Also reacting, Yoruba leader, Chief Ayo Adebanjo blamed President Buhari for the attack. Adebanjo said: "We all know our problem. Those who are oppressing us are the ones causing this problem. The Federal Government has turned a blind eye to the menace. Until we restructure Nigeria where each state has its own police, the problems will not stop. With all these attacks by herdsmen, there is no word of condemnation from President Muhammadu Buhari.
"Even when Chief Falae was first abducted, Buhari did not utter a word of sympathy for a man who was once Secretary to the Federal Government.