By Rotimi Ojomoyela
Ado-Ekiti—GOVERNOR Ayodele Fayose of Ekiti State, yesterday, insisted that the All Progressives Congress, APC, administration under President Muhammadu Buhari is sick and failing the people.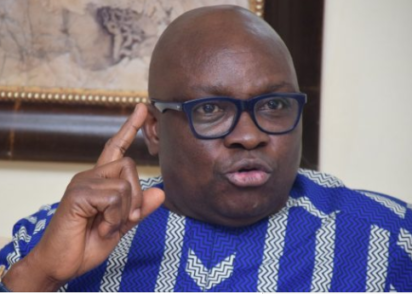 While he berated the President for failing to meet up with expectations of Nigerians, Fayose said: "when a government is sick, it is the leader that is sick and when a government is failing, it is the leader that has failed."
Lamenting the growing level of insecurity in the country, he said: "When Boko Haram takes over space, when herdsmen are killing the people and when the economy is completely down, then the leaders have failed the people."
Fayose also said the former Minister of Works, Prince Dayo Adeyeye  and others were free to decamp to the APC if they were displeased with the adoption of the Deputy Governor, Dr Kolapo Olusola as his successor.
He said he had taken a position on who to support for the election and he had no apology for doing so.
Meanwhile, the former minister, however, appealed to PDP delegates to free themselves from "exploitation and dehumanizing treatments."
Adeyeye, who hails from Ise Ekiti in Ekiti South senatorial district, formally declared for the governorship seat in Ado Ekiti last week Wednesday.
The former Minister, a Senator representing Ekiti South in the Senate, Mrs. Biodun Olujimi; former Nigeria's envoy to Canada, Amb Dare Bejide and immediate past Commissioner for Justice, Mr. Owoseeni Ajayi, had jointly condemned the adoption of Olusola as the PDP sole candidate.
Speaking at a rally held at Okesa area of Ado Ekiti, Fayose said he was not in any way rattled by the negative utterances being hurled against him by anti-Olusola aspirants.
The governor said: "The position is that we are supporting Prof. Olusola, for the ticket of our great party, the PDP and also for the governorship election coming up in the state. It is a divine project as it is God that will perfect everything. It is God who said Olusola is his choice for the governorship position and whatever God says is the final.
"APC promised much and delivered less. We have delivered more than we even promised and we are going further. Olusola has been a loyal and dutiful deputy and I am sure he will not fail the people of Ekiti State.
Fayose stated that the solidarity rally was only to precede the main rally where Olusola would formally declare his intention to contest the governorship election at a later date.
Also addressing the people, Olusola said if Fayose, without any godfather, could achieve so much, he was sure of doing great too with Fayose providing the guidance for him.
I sympathise with Ekiti people — Adeyeye
Meanwhile, former PDP Publicity Secretary, Prince Adeyeye, berated the state governor for  using executive powers to coerce, force and threaten civil servants, students, Councillors, political appointees to attend a political rally describing it as despicable.
Adeyeye said such action "violates the fundamental rights of freedom of association of these people."
Adeyeye, who spoke though his Campaign Organisation' Director of Media, Mr Niyi Ojo said,  "we sympathise with Ekiti people because we have never had it so bad not even during the despotic Military rules. You can force delegates to attend rallies but you can't force them to vote in a secret ballot electoral system."