By Boluwaji Obahopo
The former deputy governorship candidate of All Progressives Congress, APC, in Kogi State, James Faleke, has urged President Muhammadu Buhari not to rely on Governor Yahaya Bello to deliver the state, if he decides to run again.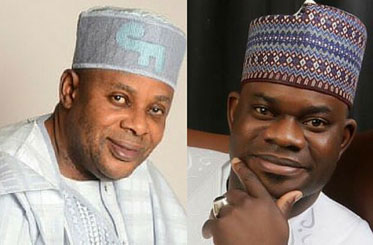 However, in a swift reaction, Governor Yahaya Bello of Kogi State said Faleke has lost touch with reality at home.
Governor Bello, who described Faleke as a "Diaspora" politicians, said the House of Representatives member is a bad loser that has been trying to bring his government down since he (Faleke) lost in all his efforts to replace late Abubakar Audu.
Faleke, who was President Muhammadu Buhari's former campaign coordinator for Lagos State, said Governor Bello had no capacity to deliver Kogi State.
According to Faleke, "I refer to a boastful statement credited to Governor Yahaya Bello that Kogi State would garner more votes for President Buhari in 2019 than Katsina State.
"First, the governor has never contested for any election and won before. Not even councillorship election. The governorship seat he is occupying today, he didn't campaign for. He was simply gifted the seat. So how can such a person stand to discuss election issues?
"How can a governor, who is not registered as a voter in his state and has no voting rights mobilise votes for no less a person than Mr. President?"
Faleke noted that it was the height of deceit and folly for a governor, notorious for neglecting the welfare of the citizens of his state by owing them several months of salaries and pensions, to boast of being able to lead the same citizenry, who are daily dying of hunger, to vote en masse for President Buhari.
Gov Bello's reaction
Governor Bello, who spoke through his Director General, Media and Publicity, Mr. Kingsley Fanwo, re-affirmed his earlier stance that Buhari remains the candidate to beat in Kogi State.
He said: "Kogi is for Buhari and Buhari is for Kogi. Let us remind critics that Kogi people were the first to hold a mammoth rally to endorse Mr. President for second term.
"Faleke is a Diaspora politician, a bad loser who has been doing everything possible to pull the party down in Kogi State. Some APC leaders in Kogi State may not be aware that we are keeping track of their secret funding of APDA in the state.
"Faleke is uncomfortable with the rising profile of the governor and has been making mockery of his political status as a member of the House of Representatives.
"President Buhari is comfortable that those who tried to pull the party down are complaining. It shows that the party is safely under the leadership of Governor Bello.
"Faleke should come home and stop launching tirades in the pages of newspapers. Every politics is local. Let him come home to prove his relevance."