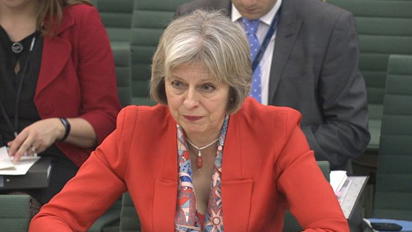 Theresa May
British Prime Minister Theresa May appointed Karen Bradley as Northern Ireland Secretary on Monday, shortly after James Brokenshire resigned from the post due to ill-health.
The switch, part of a long-awaited Cabinet reshuffle by May, comes nearly a year to the day since the collapse of the once-troubled province's semi-autonomous government.
Bradley, 47, has been serving as culture secretary since July 2016, after first entering parliament in 2010.
Brokenshire resigned in a letter to May on Monday morning, as she began a reboot of her team, revealing he needed surgery.
"I have a small lesion in my right lung which needs to be removed. Clearly, my long term health and my family are my priorities and I intend to proceed with surgery at the earliest opportunity," he wrote.
Brokenshire, 50, took to Twitter later in the day to express his appreciation for messages of support.
"Standing down will allow me to focus completely on my family, my health and recovering from surgery speedily so that I can get back to frontline politics as early as I can," he added.
The former minister has hosted repeated unsuccessful negotiations between republicans Sinn Fein and the Democratic Unionist Party to form a power-sharing executive in British-ruled Northern Ireland.
Following the breakdown of talks, the province is on the brink of direct rule by civil servants in London who have already been managing its budget.
May backed Brokenshire's decision to step down at "an important moment for politics in Northern Ireland", thanking him for his efforts with a letter in which she urged the parties to re-establish the power-sharing government.
The administration collapsed in January last year after Sinn Fein pulled out over a scandal involving a renewable energy funding scheme.
The power-sharing government was set up as a result of the 1998 Good Friday agreement, which brought to an end three decades of mostly sectarian conflict in Northern Ireland that claimed the lives of 3,500 people.
Talks are still stalled on two key demands from Sinn Fein, which backs the legalisation of same-sex marriage and legal protection for the Irish language.
Tensions have been raised further after the DUP struck a power deal with May's ruling Conservatives after a general election in June, in which she lost her parliamentary majority.
Sinn Fein argues that the deal gives the DUP unfair influence over British government policy in Northern Ireland, including over Brexit negotiations that will have major implications for Ireland's economy.