BY NDAHI MARAMA
MAIDUGURI – The Borno State Government, has announced the end of 8pm to 6am curfew earlier imposed on residents of Maiduguri Metropolis and Jere Local Government Area of the state in the past three weeks.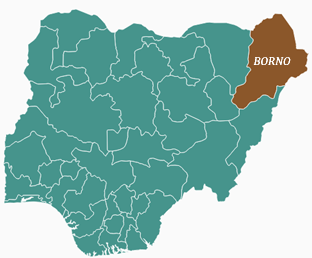 The curfew is now reviewed from 10:30 pm to 6am beginning from Saturday 20th January, 2018.
Recalled that on the strong advice of the Theatre Commander, Operation Lafiya Dole, Major General Nicholas Rochas, on Friday 5th January this year rescheduled and imposed the curfew time from 8:pm to 6am instead of 10pm earlier enjoyed in the state couple of years ago, sighting 'the need for sufficient time to complete the on-going special operation launched against Boko Haram terrorists'.
Commissioner for Home Affairs, Information and Culture, Dr. Mohammed Bulama in an interview with our Correspondent on Friday said, "the three weeks 8pm to 6am curfew imposed on Maiduguri and Jere have been relapsed beginning from tomorrow (Saturday 20th January 2018).
"Government after due consultation with the Theatre Commander 'Operation Lafiya Dole' Major Nicholas Rochas and other relevant security agencies decided to review the curfew from 10:30pm to 6am.
"Government once again deeply regrets the understandably difficult situation the development inevitably created as well as the great inconvenience the general public had suffered during the three weeks 8pm to 6am curfew, adding that the decision was taken to safeguard collective security and well-being of the citizenry.
"Government therefore urges all indigenes and residents of Borno State to cooperate with all security agencies in the fight against Boko Haram and be vigilante by reporting any suspicious movement in their community to security operatives tame the menace of insurgents and other criminal activities in the state.
"Government under the leadership of governor Kashim Shettima will always sacrifice all to ensure peace, stability, development and progress of not only our dear State, but Nigeria as a whole.
"We also appreciated the understanding, support and cooperation of the general public and urged them to be law abiding, as very soon, the state will be declared curfew- free at all times." Bulama stated.