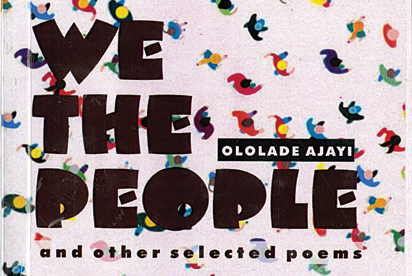 By Destiny Eseaga
With the dwindling trend and repulsive nature at which the young generation frowns at the use of mother tongue, a need to address the situation becomes imperative.
Stemming from this, a collection of satirical poems called '' we the people' written by Ololade Ajayi comes to bear.
The book is a chronicle of contemporary events as it does relate to the author's political orientation and societal ills about Nigeria.
It is reviewed by Human Right Lawyer and Senior Advocate of Nigeria, Chief Femi Falana.
Also, the author expresses her love for her roots and language- Ekiti dialect, which she artistically make use of in a way no other artist can.
Much as the author has a duty to her society in terms of exposing ills and pointing the society in the right direction, she also depicts a deep sense of indebtedness for her language by coining new words, thereby increasing its vocabulary.
This is very important because, the more the vocabulary of any language, the greater the capacity it gives users of the language to express themselves and communicate with others in poetry, prose and drama. Poetry in postcolonial Africa is largely functional. And thats to say poetry is not only written for its own sake, it helps serve specific communal functions depending on its type and mode of expression.
The 60 page collection is divided into five parts with each section evoking feelings in the minds of the audience. It comes at a time when interest in indigenous languages is waning and a lot of youths finding it repulsive and even difficult to speak their own mother tongue.
The first part, talks about infamous laments- a satiric collection that exposes the misdemeanors of politicians and societal ills in the country. Part two as Lagos the Rumi, talks about the uniqueness and exploit of the city called Lagos.
In part three which is titled, Orisun (The Source), Ololade became passionate with a collection of Ekiti poems like Ekiti Parapo and Abalaye (The Aborigines). The author as a cultural enthusiast uses her local language to paint a scenario or tell a story, which invariably can best describe her as a wordsmith.
Part 4 dwelt on dialectal Love that signifies love between two lovers while Part 5 talks about Faculty of "Mentaphors"
In her own words, Ololade reflects on what inspired her to write.
"We The People" is basically a satiric collection reflecting the state of the Nation, Nigeria. As a poet, one cannot only just be an activist but we have to be involved in using our voice to help the voiceless in the society. We are the conscience of the society. I love my country and am also a cultural enthusiast that is why some of my poem are written in my dialect- Ekiti dialect."
According to her, a poet is at once a chronicler of contemporary events.   He relates to past events and he is also a social critic who comments on societal ills.
"We have religious poetry, entertainment poetry, abusive poetry, love poetry, dirges and so on and so forth. All of them serve different purposes in our communities but the most important thing is to address issues as it concerns the people" she said.