…Ask Nigerians to rise up
By Sam Eyoboka & Olayinka Latona
Following the massacre of scores of residents of Benue state by herdsmen which attracted nationwide outrage, Nigerian clerics have argued that the need to save Nigeria and put her back on the path of recovery, rehabilitation and regeneration has assumed a very grave and grievous dimension that the life of the nation as a collective is at a very dangerous peril.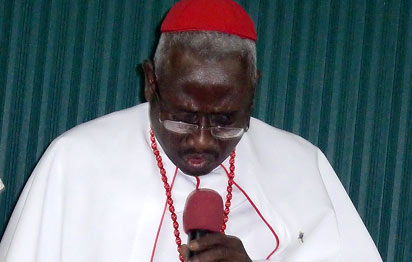 According to them, "the kind of acute and accurate leadership which is at the heart of any progressive or transformational agenda has been completely non-existent in Nigeria and therefore, the story of our dear nation has been one of permanent and consistent retrogression in almost all the areas that matter most to our tried and tired people who are indeed magnanimous, forgiving and longsuffering.
They therefore urged all well-meaning and patriotic persons to rise up to steer the ship of the state away from the path of certain destruction and collapse.
Eminent Christian leaders who lamented the unfortunate incidents in the country included retired Prelate of the Methodist Church Nigeria, His Eminence Sunday Ola Makinde, retired Catholic Archbishop of Lagos and one time National President of the Christian Association of Nigeria, CAN, Cardinal Anthony Olubunmi Okogie, and the National President of the Pentecostal Fellowship of Nigeria, PFN, Rev. Felix Omobude
Nigeria is at the verge of revolution, says Prelate Ola Makinde
According to Prelate Makinde, "honestly we are in a state of confusion. There's no fuel, there's unprecedented unemployment and then the economy is down in addition to mindless killings of innocent Nigerian citizens and lawlessness in Benue State and adjoining states by seeming 'invincible' herdsmen. And militants are also raising their heads up and the rest of Nigerians   ask, where do we go from here? That's the question and the answer is not far fetched. We must return to God.
Let the Federal Government please look into the killings in Benue State. From what we hear, over 75 persons, including women and children, have been killed in night raids on some Benue communities since new year day which has triggered condemnations across the country. Similar invasions took place in different parts of the country including Ondo and Ekiti. The herdsmen are daily unleashing mayhem on innocent citizens and nobody is checking them, our leaders are looking the other way.
On December 31, when Nigerians were preparing to enter a new year, despite monumental economic challenges, people went to church to thank God for His mercies during the outgoing year, some mindless gunmen went after them, killing over a dozen worshippers. Why is there so much blood letting everywhere? It's not good and millions of Nigerians no longer have the feeling that somebody is in charge of our national security. These developments are not good in the new year. As we are celebrating the new year now, some are in sorrow and anguish and pains. And we have a government. I think we have to call a spade a spade. Let the government wake up and address this severe insecurity, severe unemployment and the severe suffering. People are suffering and it's not good. It's not when elections are around the corner that they will provide artificial solutions, jerk up the economy and throw money into the market. Let them do it now.
The nation's highways are in dilapidated state and other roads are bad. Look at how many people died on Nigerian roads this past Christmas season. Many people are sleeping and living in darkness. Those who are able to buy generators cannot get fuel to buy because the product is nowhere to be found. It's not good. I've never seen it so bad. You have generator and money and yet you can't fuel your generator because there is no fuel. And there is hunger in the land.
I was in the village and   I could see hunger written on the faces of people. The people don't need to tell you that they are hungry, you see it on their faces. Most of us are moving corpses. No drugs in the hospitals which have become mere consulting clinics. As I'm telling you, every time you wake up in the morning, just pray to God that you don't fall sick. The few hospitals we have are very expensive. That's why death is very cheap. Death is cheaper now than in 2015 when President Muhammadu Buhari took over power.
The dog does not bark if it doesn't see danger. Look at those who are working, no salaries. Look at those who are retired, no pension, no gratuity. Where do we go from here? We have to agree on something; most of us who love this country must fast and pray for this year to be a year of emancipation.
And I know better days are coming if we will come to God. We don't hear anything about the so called notorious kidnapper, Evans anymore. It's a national sin they are committing. There's no respect for rule of law. I'm not against him, I want justice. Nigerians are suffering because we are shedding too much innocent blood. This is not the fault of the government but the government is not helping matters. Have you heard anything about Evans? One day you will just hear they've released him.
When IPOB embarked on peaceful demonstration, the Federal Government promptly declared Operation Python Dance to dislodge its ranks and declared Operation Crocodile Smile to deal with agitating militants in the Niger Delta.
Why can't they declare Operation Python Desert in Benue or in the North? They should declare the Fulani Herdsmen as a terrorist group and must be treated as such. This is where we want it now. The Federal Government should apologize now because of what these herdsmen are doing because IPOD and perhaps MASSOB were not killing people. How many people have they killed?
The herdsmen are everywhere now doing ethnic cleansing and they have not arrested any one while the military are keeping vigil in Abia State when they should be keeping vigil in Benue, Nasarawa, Taraba, Adamawa and so on. If they can allocate $1 billion to fight Boko Haram they claim to have been defeated, let's spend another $1 billion to fight herdsmen and the cleaning of Ogoniland in Niger Delta. What will I say when one is not happy.
If we are not careful, we are not far away from a revolution; and it's going to be very dangerous because suffering and injustice can lead to a revolution. I'm not happy with what is going on in Benue. Are the herdsmen bigger than the government? They are not spirits, they are human beings. They have not cleansed Ogoniland, people in Niger Delta are suffering and they are devoting a lot of oil resources to fight Boko Haram. What's their reason for fighting?
Anything can happen where there's no head, says Cardinal Okogie
In his own submission, Cardinal Okogie said, "one thing you have to know is this, where there is no head, anything can happen. In the first place, Nigeria is supposed to have a father that is a head of state. When he gave his inaugural speech the other day, President Muhammadu Buhari said he belonged to everyone but belonged to no one; Does he think he's fooling anyone?
Since Mallam Nasir El-Rufai became governor of Kaduna State, things have never gone well for the people there. Recently we were told the president visited Kaduna State; what did he do there? Did he mention anything about the killings that have been going on in Southern Kaduna? What is he trying to do? Is he trying to show us that he's not a father to the rest people but only a father to the North? Because if he is a father of the whole nation, then he will be just to every part.
But what you are now seeing is that he's just a one sided leader. From what we hear, he wants to even seek re-election in 2019. Look at the elections in Nigeria, it's not election but selection. Because he's at the head now, he now says this is what I want and those who are in the corridors of power are licking his boots and will do everything possible to make him win. I can assure you, I'm not a prophet, but if that man gets in now, I don't know what's going to happen to the rest of the county. What we are now seeing is unfair.
I saw the photographed pictures of people who are matchetted in Benue villages and he said nothing. I have never heard him once chastise Gov. El-Rufai.  I remember El-Rufai made a statement and I can never forget it, saying that "don't worry, I did something like that when I was Minister of Federal Capital Authority and they will only shout, after everything they will carry on with their job". Probably that's what gave birth to Rochas Okorocha.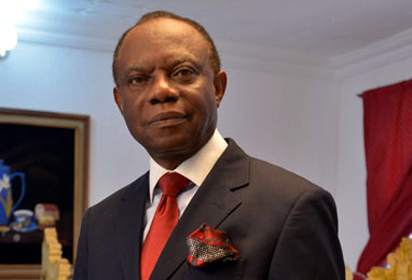 He too was of that kind of opinion, that with time everybody will calm down. Can you imagine, playing with the lives of human beings. This is more than a conspiracy of silence, how can my own father, someone we all voted for who even swore to lead this nation to the promised land now telling us that 'I'm not there for you.' As I'm on the road traveling, anything can happen to me. Someone can come, kidnap me and nobody will hear of me, just because of money. And we are supposed to have a government in Nigeria..
In those good old days, you don't carry knives or guns carelessly; even carrying loads at night, after 7.00 p.m., security personnel will challenge you and ask what you have in your bags. What are the people in the National Assembly doing? This is the time they should abolish money for elections, they do nothing. They don't care about the poor people.
Governments don't pay salaries, who will arrest them? Go abroad, once they see you with your green passport, they just put you aside, is that a good name? I have only one life to live and anybody who kills me is only helping me. How can somebody just kill innocent human beings like that? They don't care. They are talking about lack of petrol and those people who are doing the business like Dangote are getting rebate on foreign exchange while you are asking those bringing the petroleum products to pay higher for foreign exchange. If one road is not closed another one is not open.
The fuel crisis that is happening at this period of the year, do we really have a government in this country? This is not the first time, it happens at every   Christmas and we have a little bit of it during Easter. Why must it be during Christian celebrations? Why at that peak period? Where is the love in this nation?
It's unacceptable, Omobude warns
National President of Pentecostal Fellowship of Nigeria, PFN, Rev. Felix Omobude on his part described the recent killings of innocent citizens of Bebue State as mindless, barbaric, un-Godly, and unacceptable to civilized norms.
Responding to questions, the soft-spoken preacher said: "We have made our stand known, it is barbaric, un-Godly, the unorganised response from the government, was as if there is no government in the nation, people turn their faces to the other side while human beings are being slaughtered like cows and this is a kind of ethnic cleansing.
"We are calling on the Federal Government to fight perpetrators of this evil, the same way it fought Boko Haram, IPOB and other groups across the country. It's surprising to us that it's taking the government so long to respond to this evil against humanity and people have not been jailed all this while. So, it is terrible," he lamented.
According to him, PFN always speaks against any form of oppression, and "we always make our views known publicly. Certainly, we are worried about this development. It is not only in Benue State that they are doing it, it happens in other northern states and the sad thing is that the perpetrators were getting away with it."