Chris Onuoha
As the stage is set for the Miss Intercontinental World pageant holding on Wednesday, January 24, 2018 at Sunrise Grand Resort, Hurghada in Egypt, not left out is Nigeria's hopeful, Miss Chizoba Ejike.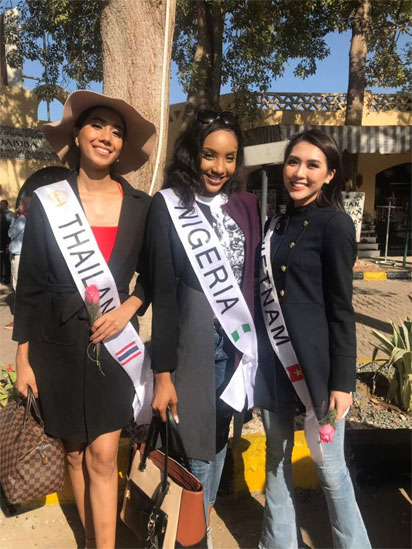 Queen Chizoba Ejike is the current Miss Intercontinental Nigeria and one of the strongest contenders for the mega crown.
The 25 year old Nigerian reigning beauty queen who is currently in the pageant's boot camp in Egypt in the global contest is making the nation proud with a creative display of the Nigeria police uniform as her National identity costume.
Queen Chizoba who adorned herself with the costume of a high ranking Nigerian Police uniform, The Assistant Superintendent of Police (ASP) kit, said that been thoughtful of what should project the image of her country Nigeria, the police kit comes to mind.
According to her, "I wore the police uniform to honour patriotic officers who have risked their lives in serving our great nation, they made safety of Nigerians their number one priority and put the country first before their loved ones", she added.
In her words "I'm so glad and honored to have the opportunity of showcasing my national identity in this pageant. That's why I chose to project the image of Nigerian Police Force knowing full well I didn't go through the rigorous training the officers go through. With this, I affirms the slogan; "The police is your friend"
Queen Chizoba Ejike who will slug it out with other contestants across the globe is expected to put up an amazing performance and return with international honours.