Caroline Wozniacki claimed her maiden Grand Slam title with a 7-6 3-6 6-4 win over Simona Halep in the Australian Open women's final. The Danish tennis star also claimed the world No 1 ranking from Halep, exactly six years after relinquishing it at the 2012 Australian Open.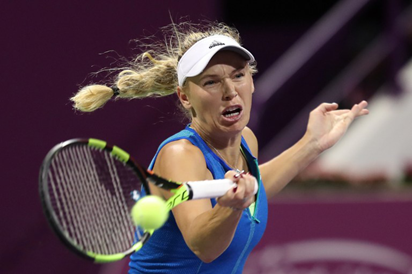 Second-seed Wozniacki, who was presented with the Daphne Akhurst Memorial Trophy by Billie Jean King, said: "I'm just taking a second here to hug Daphne.
"This is a very emotional moment. It's been an incredible two weeks. I want to congratulate Simona. I know today is a tough day. It was an incredible match, an incredible fight – I'm sorry.
"I want to thank my team, my dad. You've stood by me every step of the way. Thank you everyone for coming out today, it's been a special moment."
Wozniacki was the more assured player in the early stages and she quickly raced into a commanding 3-0 lead in Melbourne.
But Halep upped her aggression, losing just four points on serve en route to breaking back and sending the opening set into a tie-break.
However it was the 27-year-old Wozniacki, twice a losing finalist at the US Open, who stepped up again, drilling a backhand down the line to claim it 7-2.
Top seed Halep, who survived two more match points in an extraordinary final set against Angelique Kerber in the semi-finals, fended off four break-point chances for Wozniacki in the third game of second set.
But she was ailing significantly in hot and humid conditions, with the trainer called at one point to take her blood pressure.
The 26-year-old appeared heavy legged and wobbly, but it was Wozniacki who showed the first sign of weakness as Halep somehow conjured up enough energy to break in the eight game.