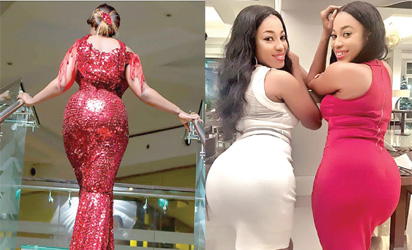 Anita Joseph, Tracy & Treasure Daniels
By Rotimi Agbana
Twin actresses, Tracy and Treasure Daniels have challenged junk in the trunk colleague of theirs, Anita Joseph, to a butt contest, daring the actress who recently celebrated her birthday with sensually alluring photos on social media to a butt challenge which will determine who has a bigger butt.

In a social media post on Tuesday, January 9, 2018, the twin sisters who have since been missing in the make-belief craft due to other business involvements stylishly took swipes at Anita Joseph, daring her to take up the challenge because they are confident she would lose.
"Just because it's Tuesday and we are naughty and mischievous at the same time, Shebi Anita Joseph wan try us, challenge accepted", they wrote.
Recall that Anita Joseph has boasted time without number that her butt is bigger than that of American female rapper, Nicki Minaj and she had also claimed that her butt attracts embarrassing attention from men.
In a recent interview, she explained how a man embarrassed her by spanking her butt in the glaring eyes of the public just because he wanted to confirm if it was real as a result of its size.