Lagos – The Nigerian Air Force (NAF) in Lagos on Friday inaugurated a new Bell 412 helicopter to boost its operations and tackle insecurity in the country.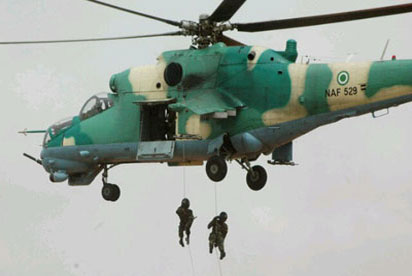 The Chief of Air Staff, Air Marshal Sadique Abubakar, during the inauguration at the 631 Aircraft Maintainance Depot (ACMD) in Sam Ethnan Base, Ikeja, said the helicopter was aimed to improve professional performance.
The News Agency of Nigeria (NAN) reports that the reactivated machine workshop, structural repairs workshop and intermediate machines tool course were also inaugurated.
''I am pleased to inform everyone that the reactivated machine was done in partnership with the University of Maiduguri at a minimal cost compared to what we would have paid outside.
''It is also good to observe that a set of 20 students have been trained in the elementary handling and operation of the machines,'' he said.
On the reassembling of the helicopter, Abubakar stressed that there were NAF technicians that were trained in the U.S. who were part of the exercise.
''We are working seriously on how we can build capacity locally to reduce cost.''
On where the aircraft would be deployed to, the chief of air staff said that NAF was looking at all areas of the country.
''We have challenges; so, we will look into that and we will leave it to the operation department to critically assess the situation on ground to deploy the aircraft as appropriate,'' he said.
The Chief of Defence Staff, Gen. Abayomi Olonisakin, who inaugurated the helicopter, commended the Chief of Air Staff for his visionary and exemplary leadership.
''Two ingredients are critical in the development of a robust industrial base as well as efficient air force; these are: versatile workshops and proficient workforce.
''So, the decision to fix this moribund machine and train personnel to operate it is a step in the right direction,'' he said.
The Air Officer Commanding, Logistic Command, Air Vice-Marshal Ibrahim Yahaya, said the inauguration would not have come at a better time than now.
''The workshop being inaugurated today (Friday) will indeed enhance maintainable capacity and indeed reduce cost of aircraft maintainable in the force.
''Most of the repair will be done in-house,'' he said.
Yahaya thanked President Muhammadu Buhari for his unflinching support for the armed forces generally.(NAN)