By Onozure Dania
Lagos—THE Department of State Security, DSS, yesterday, told a Federal High Court sitting in Lagos, that one of the importers of 661 pump action guns, illegally imported into the country, last year January, had been smuggling guns into the country in the last 12 years.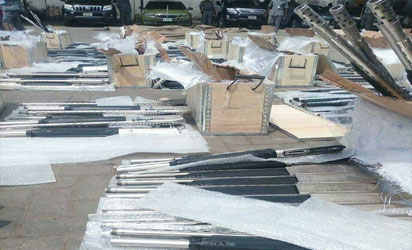 Mr. Wale Odu, Head of Investigation of DSS, while testifying at the trial of five accused persons, charged before Justice Ayotunde Faji, for unlawful importation of 661 pump action guns into the country, by Nigeria Customs Services, NCS, narrated before the court, his interaction with each of the accused persons during investigation.
Odu, was led in evidence by the prosecutor, Mr. Julius Ajaikaye.
It will be recalled that the Nigeria Customs Service had on June 14, 2017, arraigned two Customs Officers, Muhmud Hassan and Salisu Abdulahi Danjuma, alongside Oscar Orkafor, Donatus Ezebunwa Achinulo and Matthew Okoye, before Justice Ayotunde Faji's court, on charges bordering on illegal importation of fire arms, conspiracy, forgery and altering of documents, offering of graft to government officials and importation of prohibited goods.
Led in evidence, the witness said, "on February, 2017, the DSS took over the case of illegal importation of firearms from the Nigeria Customs Services, while taking over the case, the two defendants, Hassan Mahmud and Okafor Oscar, also known as Okafor Osita, were handed over to DSS for investigation of illegal importation of 661 pump action rifles.
"Also a 40 feet container containing the rifles and steel doors and a truck with number BDG 265 SD, used in carrying the container, along the with the pump action rifles. I and my team, which includes: Saheed Adetunji, Fola Oni, Bolaji Adeyemo, and others spoke with the suspects.
"I interacted with the second defendant, Hassan Mahmud, who told me that he is a sole director of Hassan Trade Nigeria Limited, which is the consignee and importer of the illegally imported 661 pump action rifles.
"In respect of the container, he and Oscar had several meeting at Southern Sun Hotel, Kingsway Road, Ikoyi, where he agreed to collect N4 million for the clearance of the container.  And that at one of the meeting, Oscar told him that the container is carrying pump action rifles, which was the reason for charging him N4 million."
The witness also told the court that, the second accused confessed to him that he paid N1 million, to fourth accused, Danjuma Abdulahi, to facilitate the clearance of the container from Apapa Port, without due process.
He further told the court that Hassan Mahmud, confessed to him that being an Assistant Comptroller of Customs, he has illegal way of shielding the container from 100 percent inspection.
Subscribe for latest Videos