A messenger, Malam Abubakar Shu'aibu, 45, of Government Secondary School, Aminu Marmara, Sabongari, Zaria, Kaduna State, yesterday, slumped and went into into coma shortly after receiving his sack letter.
An eyewitness, who confirmed this on condition of anonymity for fear of victimisation, said the incident happened yesterday morning shortly after he received his sack letter.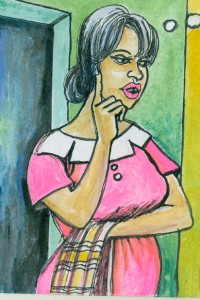 He said the messenger had served the state for about 11 years.
According to the source, "we reported to work this morning (yesterday) and Abubakar Shu'aibu was invited to Zonal Education Office; on reaching there, they served him a sack letter.
"When he returned to the school, he showed us the letter and we all advised him to see it as an act of God Almighty as nothing happens to a person without the consent of God.
"He also admitted that that it is what God had destined for him. But all of a sudden, the man collapsed and went into coma instantly.
"We acted very fast by giving him first aid. We took him up and laid him on the floor, fanning him continuously and he gradually regained his consciousness."
The source added that teachers present at the scene of the incident converged and took a decision to mobilise something from their salary to empower him.
The source also said the teachers begged the school principal, Malam Sa'idu Liman-Umar, to consider employing the messenger as a temporary worker.
Officials in the Zonal Education Office in Zaria declined comment, saying that they were not directed to speak to the press.
Also, the state Ministry of Education and the state government is yet to react to the development.
Recall that Governor Nasiru el-Rufa'i had directed that all messengers, cleaners and drivers who spent 10 years in service without obtai-ning, at least, a diploma or NCE be sacked.