…Why I stand with Buhari – Femi Adesina
By Olalekan Bilesanmi
Special Adviser on Media and Publicity to President Muhammadu Buhari, Mr. Femi Adesina, has explained why he will always stand with his principal
"Every human enterprise will have its shortcomings, but on Buhari I still stand. I stand with him, and by him, any day", Adesina said yesterday.
The spokesman said in an article: "Some people ask themselves: can we afford to be outside government for another four years from 2019? We would be dead! No access to the public treasury, which we know how well to abuse and plunder? To ravage and savage".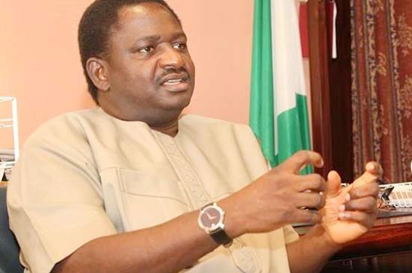 He continued: "They have spat into the sky, and collected the spittle with their faces. Rather than let Buhari be, we would employ all the tricks in the books. Defame, demean, de-market him. Is he not Fulani? He is supporting herdsmen causing murder and mayhem round the country. Trumpet it from the rooftops, even without a scintilla of evidence.
"He is sectional, and bent on Islamizing the country. He is fighting a one sided anti-corruption war. His war against insurgency is a fluke, not winnable. They refuse to see massive investments in infrastructure, which would burst into full bloom in another year or two. Roads, rail, power. They refuse to see the rebounding economy, strides in agriculture and mining, all with good auguries for the future. They refuse to acknowledge the stock market, which recently recorded N15.78 trillion, the highest in the history of the country.
"What of N1.3 trillion spent on capital projects in 2016? And almost the same amount for 2017? No, they rather imagine how much of that amount they would have pocketed if they were in power, living in obscene luxury, while the rest of the country went to hell, if it wanted. They refuse to see the good things happening to the country. And none is as blind as those who deliberately refuse to see.
"All these and more are the reasons I stand with Buhari, and will always do. So that Nigeria can have a future and a hope. Our own Canaan, flowing with milk and honey. After primitive fury was unleashed in Benue, and about 73 people were left dead, a sitting President eyeing reelection could also play politics with it, visiting and muttering the right words to impress the people. Nothing wrong. But for President Buhari, action speaks louder than words. Action stations, he told the security agencies. The Deputy Inspector General of Police in charge of Operations was first despatched, then the Minister of Interior, the Inspector General of Police himself, and then the Nigerian Army.
"Consultations were held with the governor of the state, with Benue elders, and now, a committee headed by the Vice President, made up of nine governors, has been set up to proffer solutions to farmers/herdsmen clashes. Action truly speaks louder than words. President Buhari has not thrown his hat officially into the ring for a second term in office. But they are in mortal fear of him running.
Therefore, they do all they can to dissuade him. Malign him, paint him black, devalue him before the electorate. But they don't know that there are many devices in the hearts of men, but only the counsel of God shall stand. If God has ordained President Buhari to be in power beyond 2019, human effort to stop it can only end in futility. I stand with Buhari, because it is solid ground for Nigeria.
All other ground I see, at least for now, is sinking sand. For us, for our children, for generations yet unborn, Buhari is engendering a new country, whose builder and maker is God. Let the wailers wail; endlessly. Let the heathens rage; till they render themselves hoarse. Let them throw even the kitchen sink at him, they did worse in the build up to 2015. I stand with Buhari. I know his heart for Nigeria, and for Nigerians. Let people shed their prejudices. Let them eschew hate, and purge themselves of all malice. The future can only then be written in gold".