Advanced People's Democratic Alliance (APDA) on Friday says it does not require any merger with any party to effectively participate in 2019 general elections.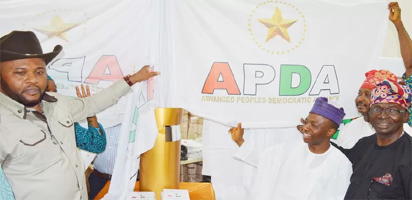 Its National Chairman, Malam Mohammed Shittu, told newsmen in Abuja after the party's National Working Committee (NWC) meeting that the party was virile enough for any political challenge.
He urged the public to disregard any rumour of merger discussion with another political party ahead of 2019 general elections.
Shittu said "APDA, which is already a party of choice for Nigerians, would prepare its presidential candidate for 2019 general elections.
"APDA as a party is not interested in any merger with any political party. We are an ideological political party that Nigerians are already in love with.
"We are not interested in merger and we are not preparing or arranging to merge with any political party for any reason.
"We are going to present our presidential candidate; somebody that Nigerians will be proud of and cast their votes for.
"With the interest of Nigerians in APDA and the support they are giving us, we are sure of victory in future elections, especially 2019."
The national chairman said the party had agreed to set up a Financial Committee to raise funds for the party to run its affairs.
According to Shittu, the National Working Committee (NWC) suspended the Ekiti State Working Committee of the party after reviewing the crisis in the state chapter of APDA.
"The intervention of NWC is to save the party and unite contending factions and interest because we are determined to field credible candidate for the 2018 governorship election in Ekiti.
"We suspended the state chapter working committee and set up a three-man committee to investigate and run the affairs of the party until congress is conducted."
NAN