By Emman Ovuakporie
ABUJA—THE financial  report presented by the Office of the Secretary to the Government of the Federation,OSGF, to the House of Representatives, yesterday, indicated that N280 million allocated for purchase of cars for former Presidents but was monetised.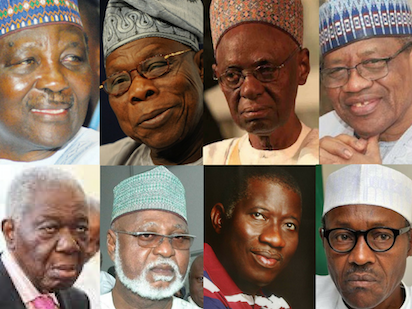 Secretary to the Government of the Federation, SGF, Boss Mustapha, disclosed this in his budget presentation before the House of Representatives.
The SGF equally made a passionate appeal to the lawmakers to speedily pass the budget, promising them that he would talk to heads of agencies to avail themselves since this is the year preceding the 2019 general elections.
Giving a breakdown of the 2017 budget and the financial implications of 2018, the SGF revealed that N40 million was released to former Presidents to purchase cars out of the N280 million initially budgeted for the purpose.
He said the money in question was monetised for former Presidents to buy cars of their choice.
In addition to the N170 million balance for the procurement of vehicles, he said additional sum of N96 million was proposed for procurement of vehicles in the 2018 budget estimates.
According to him, the beneficiaries are Chief Olusegun Obasanjo, Dr Goodluck Jonathan, General Yakubu Gowon (retd), General Ibrahim Babangida (retd) and General Abubakar Abdulsalami (retd).
Similarly, former vice presidents Atiku Abubakar, Sambo and others to benefit.
Also, from the N210 million proposed for procurement of vehicles for former vice presidents,  N120.090 million has been released in 2017, while balance of N90 million was proposed in 2018 budget estimate before the National Assembly.
The proposed procurements were part of the N2.492 billion and N2.492 billion capital expenditure for 2017 and 2018 respectively.
Reps query N18.4m purchase of 27 laptop computers
While reacting to the presentation, the lawmakers queried the proposed N18.360 million for purchase of 27 laptop computers (Mac Book) in 2018; N995,190,118 for purchase of security equipment; N64 million for purchase of monitoring trucks; N316 million for purchase of motor vehicles; N124 million for four 18-seater buses and two 30-seater buses.
N130 million was also proposed for procurement of two Land Cruiser Prado Jeeps; N65.551 million for Ambulance & Clinic equipment while  N170 million was proposed for Independence/Democracy Day celebrations.
While responding, Mustapha explained that the Mac Book was for Council Chamber, considering the volume of work before them.
He explained that other proposed expenditure for 2018 include N1.734 billion for political officers and standing committee; N760.277 million honorarium and sitting allowance; N133.421 million for welfare packages; N88.65 million for purchase of office furniture and fittings; N18.36 million for purchase of computers and N456.64 million for computer software acquisition.
The sum of N65m too was earmarked for the design of a website for the office; N116.64 million for support/maintenance of e-Council document management; N60 million for upgrade and turn around maintenance of Council Chambers Conference system; N30 million radio frequency identification device system (RFIC); N35 million for expansion of local area network/OSGF website upgrade and N40 million for socio-economic impact studies challenges/solutions.
However, the 2017 budget document showed that of the total sum of N55 million proposed for upgrading and turn around maintenance of Council Chambers System, the sum of N54,400,500 has been released, leaving the balance of N599,500 only (98.91%).
From the sum of N35 million proposed for 1 Xerox D125 Heavy Duty Photocopy Machine to enhance timely production of Council memoranda, the sum of N34,938,750 was released (99.83%) leaving a balance of N61,250 only.
Likewise, out of the total sum of N20.800 million proposed for the 52No of Mac Book procured in 2017, the sum of N20.790 million (99.52%) has been released while from the total sum of N170 million proposed for Independence/Democracy Day celebration, the sum of N138 million was released.