…TCN transmits 57, 667mw to 11 DISCOs
By Prince Okafor
Despite several promises made by the Federal Government to ensure total evacuation of generated power to consumers, Nigerians are yet to see any development, as the nation's 11 Distribution Companies, DISCOs rejected 18, 648.66 megawatts (mw) of electricity in the first two week of 2018.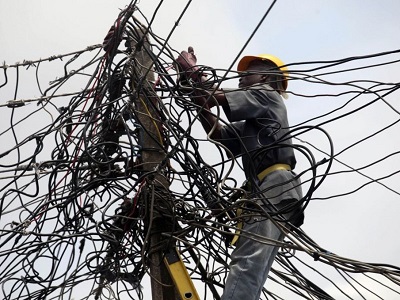 Vanguard investigation shows that, Ikeja Distribution Companies, IKEDC, topped the list of the DISCOs that rejected electricity within the period under review, with a total of 3,557mw, followed by Eko DISCO, 2,745.5mw, and Ibadan DISCO, with a total of 2,192.5mw.
Others include: Abuja DISCO, 1,885.2mw, Enugu DISCO, 1,690mw, Kaduna DISCO, 1,533mw, Benin DISCO, 1,330mw, Kano, DISCO, 1,295mw, Jos, 1,086mw, Port Harcourt DISCO, 753mw, and Yola DISCO, 612mw.
It was also gathered that a total of 5,689.5mw of electricity was rejected by the 11 DISCOs from January 1 to 7, 2018, while a total of 12,959.2mw was un-utilized between January 8 and 14, 2018. Findings also show that a total of 57,667mw of electricity was transmitted to the 11 DISCOs from the national grid allocation by the Transmission Company of Nigeria, TCN.
Milestones in thepower sector
In a report obtained from the TCN, IKEDC, has the highest allocation which totalled at 8,540mw, followed closely by IBEDC, at 7,328mw, next to EKEDC at 7,013mw.
Others include: ABEDC, 6,682.5mw, EEDC, 5,083mw, KEDCO, 4,283MW, PHEDC, 4,002mw, Kaduna Electric, 3,908mw, JEDC, 3,100mw, BEDC, 2,324mw and YEDC, 1,999mw.
The report also noted that the daily estimate of power requested by DISCOs for the period under review, averaged 50,968mw. A total of 8,797mw was allocated to IKEDC, followed by IBEDC at 5,898mw, 5,598mw for ABEDC, amongst others. Despite 57,667mw of electricity that was transmitted to the 11 DISCOs from the national grid by TCN, only 40, 045mw of power was accepted by the DISCOs, with IBEDC accepting the most at 5,226mw followed IKEDC, 4,983mw.
The Minister of Power, Works and Housing, Mr. Babatunde Fashola has said that there is currently 2000 megawatts (MW) of electricity that could be generated and sent to manufacturing bases across Nigeria but are not being utilised because manufacturers have not shown interests to take up this idle volume of electricity.
Fashola, stated that the country had recorded some milestones in its power sector in the last year, and would like to improve on them in 2018. The Minister noted that while power generation and transmission capacities of the country had grown to 7,000MW respectively, distribution had only inched up to 5,000MW, leaving a balance of 2,000MW unused which could be channelled to the industrial bases of the country.
He said that the government would want manufacturing outfits and clusters in the country to indicate their willingness and where they want the excess power to be channelled to them for consumption.
Manufacturers in the country had frequently complained of poor electricity supplies and rising cost of independently providing the electricity they need to undertake their operations, while the government in 2017 approved a regulation for eligibility customers, thus paving the way for heavy power users to enter into contracts for direct power purchases with the generation companies (GENCOs).
According to the Minister, "We are also putting together a policy position to help expand the distribution network of the DISCOs and use this to distribute the 2,000MW that is currently available but cannot be distributed. "I also use the opportunity to call out to manufacturers to let us know where they are, how much power they need, and how we can connect you because we have 2000MW of undistributed power."
System Collapse
Meanwhile, the Transmission Company of Nigeria (TCN) on January 2, 2018 said that a fire incident on the gas pipeline supplying six generation companies (GENCOs) in the western part of Nigeria triggered a sudden collapse of the grid. The grid was restored afterwards but the six GENCOs had their gas supply cut off and had to shut down. The GENCOs' operational output of 1,143MW as at when the fire incident occurred was lost.
The affected GENCOs include 1,320MW Egbin and 60MW Paras NIPP, in Lagos State; 676MW Olorunsogo NIPP and 338MW Olorunsogo in Ogun State. The others are 450MW Omotosho NIPP and 338MW Omotosho in Ondo State. Regrettably, 10 days after the Escravos Lagos Pipeline System, ELPS was burnt by bush fire and restored, The Nigeria National Petroleum Corporation, NNPC, reported that the same pipeline has been ruptured again by an explosion.
A statement by its spokesman, Ndu Ughamadu, said the fresh incidence occurred along Egbokodo-Omadino, in Warri South Local Government Area of Delta State.
NNPC said its Group Managing Director, Dr. Maikanti Baru, has directed that repair works should be executed immediately on the pipeline.
The GMD further directed that gas supply from other sources like Oben, Oredo, Sapele, Ughelli and Utorogu be stepped up to augment any shortfalls as repair works have commenced on the pipeline. The Escravos pipeline supplies gas to power plants, in addition to feeding the West Africa Gas Pipeline System (WAGPS).