Zimbabwe's President Emmerson Mnangagwa has dropped his education minister, Lazaraus Dokora, a day after reappointing him into his cabinet. He was replaced by deputy minister  Paul Mavima.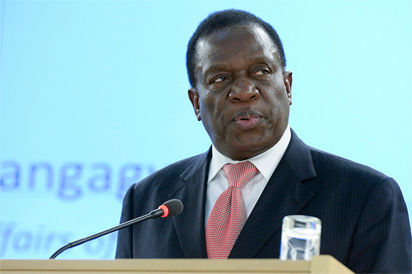 Dokora's reappointment as primary and higher education minister had caused an outcry from Zimbabweans on social media and radio shows who slammed him for poor performance and undermining the country's education system.
Mnangagwa made other changes to the cabinet that his chief secretary Misheck Sibanda called "adjustments to ensure compliance with the Constitution and considerations of gender, demography and special needs".
Under the Zimbabwean constitution, ministers and their deputies have to be members of parliament, except five who can be chosen for their professional skills and competence.
Mnangagwa had named as ministers seven persons, including military men, Major-General Sibusiso Moyo as foreign minister and Marshall Perrance Shiri to the sensitive land portfolio. They are not lawmakers.
Their appointment was widely seen as a reward for the army's role in the removal of his predecessor, Robert Mugabe.
He also named ZANU-PF lawmaker Petronella Kagonye to the labor and social welfare portfolio, replacing university professor Clever Nyathi who was appointed special advisor in the president's office on national peace and reconciliation.
Chris Mutsvanga, leader of the powerful war veterans' association and who was named media, information and broadcast minister, has also been appointed special advisor to the president.
Sworn in as president last Friday after 93-year-old Mugabe quit in the wake of a de facto military coup, Mnangagwa's cabinet drew criticisms from analysts and Zimbabweans who had expected a more broad-based lineup that marked a break from the Mugabe era.