….honour well deserved- Hon Orebiyi
By Gabriel Ewepu
ABUJA- THE monarch of Bagido Kingdom, in Yagba East Local Government Area of Kogi State, His Royal Highness, Oba Reuben Sunday Adeyemi, and his subjects have honoured Founder of Omoluabi Foundation, Omoluabi Onirinwa Mofolami, with conferment of traditional title, 'Ariwajoye of Bagido Isanlu'.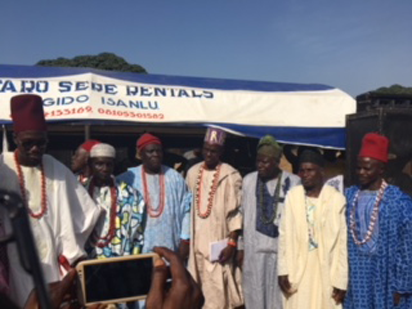 Oba Adeyemi said his people were watching and assessed the attitude and character of Mofolami with his activities in the kingdom over the years, but have realized that the impact he has made was enormous in transforming and reorienting young people, and that has brought educational progress, discipline and drastically reduced vices perpetrated by youth in the area as most of them were empowered to add value to their life.
The ceremony drew many sons and daughters of the Bagido Kingdom in great number to witness the conferment of the title, which included traditional council of Bagido Kingdom, title holding chiefs, politicians, religious leaders, different youth organizations, academia, businessmen and women, family members, friends and well wishers from all works of life.
Explaining the meaning of the title of 'Ariwajoye of Bagido Isanlu' , Oba Adeyemi said it means 'a man who has been honoured based on his good character.'
He said: "We the traditional council of chiefs of Bagido Kingdom and the people, which as the Oba of the Kingdom, the Olurigirigi, have the tradition of identifying and recognising effort and impact of our sons and daughters including our visitors on developing the kingdom by taking it to the next level.
"We have watched keenly and done our assessment on the good work our son, Omoluabi Onirinwa Mofolami, has been doing being a young man with a vision and passion to impact his people positively, especially young people in our kingdom.
"His character alone speaks volumes and we are all amazed within a short time he started his project and philanthropic activities our youth are now focused and disciplined as most of them have added value to themselves with what Mofolami is doing.
"So we deemed it necessary to honour him with a chieftaincy title. Today, we confer on you as the 'Ariwajoye of Bagido Isanlu' , which means 'a man with good character.' We believe he will do more to uplift our kingdom if we encourage and commend him with the honour done him."
Meanwhile in his remarks, a former lawmaker at the Kogi State House of Assembly, Hon Sesan Orebiyi, who described the conferment of the title as well deserved, said he (Mofolami) remains a worthy son of Yagba Land.
"He is somebody who has great vision for himself as a youth and who believes in collective unison in achieving development, basically and engendering the youth, and I have seen the strides, commitment, and real image as one that is not dented because he is somebody that has survived business terrain putting his best.
"For commensurate support to his people is wonderful because he has engaged his collegiate and greater relationship also to impact his own vision, and that aspect he is doing wonderfully.
"He is a worthy son who supports his people and has given back to the society and has been unprecedented, and is only few of us that have been able to do. This is an indication that the youth can also engage and is a break from the usual subservient way of life", Orebiyi said.
Responding to the honour done him by his people, the recipient, Mofolami, said he was amazed and humbled by the title conferred on him, and promised to do more for the people and Kogi State at large. He also advised young people to believe in themselves, do things that would add value to their future instead to allow people use them for their selfish objectives.